Rehearsing your hurts cultivates bitterness. Rehearsing negative experiences cultivates a critical spirit. Obsessing over negativity breeds cynicism. But rehearsing your blessings will cultivate a grateful heart.
The importance of your meditations and conversations cannot be overstated. Your mind and your mouth affect you and those around you in profound ways. Your thoughts, or meditations, define you. As a man "thinketh in his heart, so is he" (Prov. 23:7). Every man is responsible for the thoughts he thinks. You can choose to dwell on things that are pure, honest, just, and the like. (See Philippians 4:8.) Or you can choose to meditate on destructive things. Our minds are always dwelling on something, and we must break wrong thought patterns by acquiring new ones.
To clear your mind of harmful thoughts, you must begin by eliminating negative words from your mouth. Like a rudder on a ship and a bridle on a horse, your words give direction to your life. (See James 3:3-5.) Both "death and life are in the power of the tongue." (See Proverbs 18:21.) Your speech may give birth, or it may kill. This is why you must be deliberate in how you utilize words. Start speaking words of life instead of words of death. Your speech is programing you and everyone around you. To remove wrong thoughts from your mind, begin by eliminating wrong words from your mouth.
Prayer is talking with God. Meditation is talking to yourself. A conversation is talking with others. Your tongue is a little member, but it has huge consequences in all three realms: prayer, meditation, and conversation. Words can kill dreams, friendships, and even faith. Notice the warning from James about the tongue: "And the tongue is a fire and a world of iniquity…it defileth the whole body,…and it is set on fire of hell." (See James 3:6.)
Someone said, "The tongue is so hot that God had to place it in a wet solution, else it would burn our heads off!" Flaming tongues can do a world of damage. Pay close attention to how you talk with yourself and others.
Yes, there is a battle for your mind. The war on the saints takes place largely between the ears. But you have powerful weapons with which to rein in those renegade thoughts. (See 2 Corinthians 10:3-5.) This mental warfare can be intense, but you can demolish strongholds. You are not a victim of fate. Your thoughts are not predetermined. When you feel out of control and your mind is racing, you must learn to employ the powerful weapons at your disposal. Thinking right thoughts and speaking right words will set the course for your life.
Stop grumbling and start thanking. Instead of brooding on your hurts, begin to give thanks for your blessings. Stop dwelling on what you have lost and be grateful for what you have left. Since your mouth and your mind are intrinsically connected, each influences the other. Our innermost thoughts and even our whispers are consequential. Choosing "good thoughts" and speaking "right words" are mandatory.
David prayed, "Let the words of my mouth, and the meditation of my heart, be acceptable in thy sight, O Lord, my strength, and my redeemer" (Ps. 19:14). This was a preventative prayer. He was thinking about what lay ahead and appealed to God for help and strength. He wanted his speech and thinking to be appropriate and proper. So he cried out to the Lord for His empowerment. He wanted his conversations and meditations to be acceptable to God.
The good news is our minds can be reprogrammed. Thanking God in advance is the first step of faith. There comes a point in prayer where we need to move from requesting to believing. It's the difference between asking and appropriating God's resources. When a person thanks God for something before it becomes apparent, that is faith. "Now faith is the substance of things hoped for, the evidence of things not seen" (Heb. 11:1). Notice that faith is substantive. It is the title deed for a request, the evidence of things we do not currently see. Prayer is the means to bring the future into the present. It is God's ordained way to import God's will from heaven to earth. They are not prayers of doubt but prayers of faith that move God's hand. Faith-filled praying expects an answer and dares to thank God ahead of time! Faith honors God and God honors faith.
The hurts and wounds you have suffered do not deserve continued mental airtime. Dwelling on these things generates anger and resentment. Don't let those injuries define you. You must stop walking down those painful corridors in your mind. You can chart a new course for a brighter tomorrow by leaving those dark places behind. The key element in transitioning from a victim of circumstance to a life of overcoming is by guarding your mind and your mouth.
A young woman was attending a Bible college where she was raped. As a result, she found herself pregnant. She chose to place her baby in an adopted home. She was healed of that horrific experience. Out of her misery came her ministry. Today, she runs an adoption agency where she assists mothers in placing their babies in loving Christian homes. Bad experiences are not the final chapter unless you permit them to be. You have the power to move beyond your pain.
You can cultivate a grateful spirit by rehearsing your blessings. You can cultivate an expectant spirit by learning to thank God in advance. Faith is the only way to please God. "Giving thanks always for all things unto God and the Father in the name of our Lord Jesus Christ" (Eph. 5:20). Repetitive complaining will attract more things to complain about. Repeated gratitude will attract more things for which to be thankful. Repetitive gratitude builds your confidence in God. Thanking God ahead of time will move you from a mentality of defeat to a stance of faith. A faith-filled, forward focus is of great assistance in getting beyond your past hurts.
REFLECTIONS
Rehearsing your hurts will cultivate bitterness. Rehearsing your blessings will cultivate a grateful heart.
To clear your mind of destructive thoughts, you must begin by eliminating negative words from your mouth.
The key element in transitioning from a victim of circumstance to a life of overcoming is by bridling your mind and your mouth.
Prayer is talking with God. Meditation is talking to yourself. A conversation is talking with others. There is power in your mouth!
STUDY QUESTIONS AND POINTS OF APPLICATION
Look up and read Proverbs 23:7 now. What does this verse teach?
What is the correlation between conversation and meditation?
The battle for your mind takes place between your ears. Review Second Corinthians 10:3-5 and list the advantages we have because of our spiritual weapons.
Instead of continually complaining, start practicing repeated gratitude. Rehearse your blessings before the Lord now.
This chapter was taken from the new book "The Power of Forgiveness" by Harold Vaughan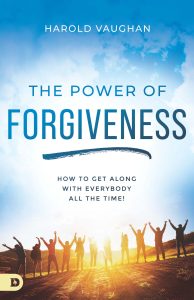 CLICK HERE for more information on this book.