Be ye not unwise, but understanding what the will of the Lord is. And be not drunk with wine, wherein is excess; but be filled with the Spirit; speaking to yourselves in psalms and hymns and spiritual songs, singing and making melody in your heart to the Lord. Ephesians 5:17–19
One of the greatest truths of the Christian life is that we as believers are indwelt by the Holy Spirit—by God Himself. When we turn to Jesus Christ by faith, God forgives us of our sins and gives us eternal life. He also comes to indwell us and empower us to live the Christian life.
Have you noticed, however, that one of the most difficult places to live the Christian life is in our homes? Someone has said that when a person goes to church, he preserves his reputation, but when he goes home, he reveals his character! Or perhaps this saying makes more sense: it is easy to be a hero at church and a zero at home. The greatest place to live out our Christianity is at home—but how do we do it? In Ephesians 5:18, Paul says that we do it by being "filled with the Spirit."
When we are filled with the Spirit, He produces His fruit in our lives: "love, joy, peace, longsuffering, gentleness, goodness, faith, meekness, temperance" (Gal. 5:22–23). Because we live under the curse of sin and are so easily controlled by sin, we don't naturally live by these fruits. Instead of love, we are filled with lust and selfishness. Instead of joy, we are often on edge and easily bothered, irritable, and short tempered. Instead of peaceful, we can be frustrated, fretful, and worried. Instead of being patient (longsuffering), we are impatient and uptight. Instead of gentle, we tend to be harsh and short with one another.
We desperately need to walk in the Spirit so we can understand God's will and walk with Him in joy and victory in our homes. What are some ways we can walk in the Spirit?
Pray for His filling and leading in our lives. We should ask God every day to take charge and to speak to us and direct us. In the same way an employee goes to a supervisor and asks for help regarding any number of matters, we can go to the Spirit and do the same. When we sense a battle regarding purity, we can ask Him for purity. When we feel down and irritable, we can ask Him to give us love, joy, and peace. When we don't know how to handle a matter in our homes, we can ask Him for wisdom. When we learn to hear His voice and follow His leading, we are filled with the Spirit, and His fruit becomes the norm in our lives. That is a recipe for spiritual success and a happy Christian family.
Seek His will by going to His Word. Psalm 119:130 says, "The entrance of thy words giveth light; it giveth understanding unto the simple." As we learn God's Word and apply it to our lives, the Holy Spirit uses it to make us more like Jesus. The result is God's blessing in our homes. If we want to know God's will and have God's blessings, we need to learn His Word. Read it daily. Think on it. Look to it for direction and answers. Study it. Hear it preached and taught. Teach it in our homes. Learn to ask over and over again, "What does the Bible say about this?" and say as often as possible, "The Bible says . . ." and then fill in the blank regarding every matter we face. My late father-in-law was a wonderful pastor, husband, and daddy. He was and is one of my heroes. The way he gave counsel is one of my favorite memories. He would listen to someone's question and then begin every answer by saying, "Well, the Bible says . . ." and give principles from God's Word.
Learn to follow His leading. Paul told the Galatian churches to "walk in the Spirit" (Gal. 5:16, 25), to be "led of the Spirit" (Gal. 5:18), and to "live in the Spirit" (Gal. 5:25). The three together can help us see God's plan. Paul used the word "walk" to describe the Christian's daily life, and we must be "led" of the Spirit to "live" in the Spirit. On our own, we will always default to our sin nature and allow sin to rule our homes. Through the Spirit, however, we can overcome that old sin nature and walk in the new life that can come only through Jesus. As we listen to the Spirit, ask for the Spirit's help, and depend on the Spirit's strength, we will be well on our way to having happy Christian families.
Action Points
How often do you look to God's Word to help you in addressing issues that arise in your home?
Are you Spirit filled? If not, ask God to fill you now.
Speak with your family members about the fruit of the Spirit. Pray with them. Ask that each person in your family will show this fruit in his or her life.
Written by Evangelist Dave Young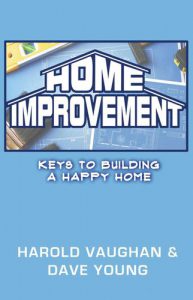 This chapter is taken from "Home Improvement – Keys to Building a Happy Home".