I heard of a man who was bitten by a rabid dog. The attending doctor told him that rabies was not only incurable, it was also fatal. The physician recom­mended that the dying man get his house in order. Both shocked and silent, the patient just sat there. At length, the doomed man requested a pen and paper. He started then to write fast and furiously. About an hour later, the doctor came by and found the man still writing fever­ishly. The doctor said, "I'm glad to see you are writing out your will." The man responded, "This ain't no will. It's a list of all the people I'm going to bite before I die!" Living with bitterness is a poor way to exist, and dying with bitterness is the worst way to exit the planet. So why should we forgive our offenders?
The way we treat our fellow men is a clear indica­tor of our relationship with God. The Lord Jesus takes the way we treat others personally: "Inasmuch as ye have done it unto one of the least of these my brethren, ye have done it unto me" (Matt. 25:40). Consequently, to be at odds with a fellow Christian spells double trouble: not only are we at odds with our brother, but we are also at odds with Christ in him. The converse is true as well: "Inasmuch as ye did it not to one of the least of these, ye did it not to me" (Matt. 25:45). The Lord documents our dealings with others. The way we relate to the "least of these" is of utmost importance to God. Our treatment of others indicates what we think about Christ.
So important is forgiveness that Jesus emphasized it in the model prayer: "And forgive us our debts, as we forgive our debtors" (Matt. 6:12). Jesus' words could not be plainer: "For if ye forgive men their trespasses, your heavenly Father will also forgive you: But if ye forgive not men their trespasses, neither will your Father forgive your trespasses" (Matt. 6:14-15). There is a correlation between our treatment of others and God's treatment of us.
The model prayer gives us instruction on how we should speak with God. And before we can speak with the Lord, we must deal with the vital subject of for­giveness: "And forgive us our debts, as we forgive our debt­ors" (Matt. 6:12). This first part of the model prayer addresses vertical forgiveness: "Forgive us our debts" (Matt. 6:12).
Keeping short accounts with God by admitting and confessing our sins is imperative:
If we say that we have fellowship with him, and walk in darkness, we lie, and do not the truth: But if we walk in the light, as he is in the light, we have fellowship one with another, and the blood of Jesus Christ his Son cleanseth us from all sin. If we say that we have no sin, we deceive ourselves, and the truth is not in us. If we confess our sins, he is faithful and just to forgive us our sins, and to cleanse us from all unrighteousness (1 John 1:6-9).
Walking in the light means putting every dark thing under Christ's blood. Fellowship with God is possible because divine mercy has paid the price for our forgiveness, that is, Christ's death on the cross. While a Christian has perfect standing before God, his state is dependent on his willingness to visit the fountain filled with blood as often as sin arises. We must put our sins where God put them, beneath Christ's atoning blood. Calvary covers our sins from God's viewpoint. But we must uncover our transgressions through confession to maintain fellowship with God. Since Christ emphasized this essential category of divine forgive­ness in the model prayer, it must be vitally important and foundational. Agreeing with God about our sin is the meaning of confession. And when we confess our wrongs to God, He faithfully restores our fellowship and vital reality.
On the heels of vertical forgiveness is horizontal forgiveness: "…as we forgive our debtors" (Matt. 6:12). Forgiven people are forgiving people! As we receive God's forgiveness for our offenses, we are enabled to forgive our offenders. One mark of saving grace is the imparted capacity to extend forgiveness to others. As grace comes into us, grace flows out from us. When mercy is experienced, mercy is extended. The cross points in two directions: vertically and horizontally. Meaningful prayer is contingent upon forgiveness.
Next to loving God with all our heart, mind, and strength, our foremost priority is relating properly to our fellow man. Jesus spelled it out clearly: "Therefore if thou bring thy gift to the altar, and there rememberest that thy brother hath ought against thee; leave there thy gift before the altar, and go thy way; first be reconciled to thy brother, and then come and offer thy gift" (Matt. 5:23-24, emphasis added). Reconciliation is God's priority for you and me. It precedes giving, service, and sacrifice. It is so important that Jesus said we should "leave there [our] gift" and "first be reconciled." Before giving and serving, our Lord demands reconciliation. But why?
The Old Testament declares that any high priest who touched a dead animal was ceremonially unclean. Once defiled, he was not allowed to carry out his priestly duties until he had gone through a purification pro­cess. Touching a dead animal would not in itself pre­vent the priest from carrying out his duties. Efficiency was not the issue. He could have easily gone through the motions, but his service was unacceptable to God because he was personally contaminated. Here is a worthy principle: the acceptability of any gift or service is determined by the acceptability of the giver. If the giver is unfit, the gift is unacceptable, even abominable in God's sight. God will not accept a gift if the giver is personally contaminated by broken relationships.
This is the reason why God has said we must first attempt to be reconciled. Let me emphasize the word attempt. Broken relationships so contaminate us before God that our service is unacceptable. Therefore, we must first seek reconciliation. As Christians, our ver­tical relationship with God is affected by our horizon­tal relationships with others. If we are to stabilize our relationship with God, often we must begin by first stabilizing horizontal relationships. Yes, we must do all in our power to put things right, even though we have no control over how others will respond or react. The difference between reconciliation and forgiveness will be closely examined in later chapters.
The word reconciliation means "to be at peace with." Our fallen nature is at enmity with God, but the Lord Jesus has reconciled people to God by His death on the cross. The enmity is gone once we are saved; we are at peace with God. Reconciliation means putting things right when things have gone wrong. When it comes to our attention that we have offended someone, inten­tionally or unintentionally, knowingly or unknow­ingly, willingly or unwillingly, it is our responsibility to drop everything and go to the offended party. Then, in humility and sincerity, we are to seek to restore the relationship. The response of the offended party may be positive or negative. But once we obey God, we are free, and the offended party's response is between him and God. Our sole duty is obedience.
Scripture teaches the importance of forgiveness and reconciliation. To be on the outs on earth means we are out of touch with heaven. God admonishes us to keep lines of open communication in marriage "that [our] prayers be not hindered" (1 Pet. 3:7). For example, when married couples are not on speaking terms with each other, they may not be on speaking terms with God.
Herein lies the root of much spiritual sickness. Few realize how unforgiveness, hurt feelings, and adverse relationships dramatically affect our relationship with God. The Apostle John said, "…for he that loveth not his brother whom he hath seen, how can he love God whom he hath not seen?" (1 John 4:20). In other words, if we cannot properly relate to human beings, how can we pretend to be rightly relating to God?
Jesus said, "…first be reconciled" (Matt. 5:24) because reconciliation and forgiveness are first on Jesus' list. They must be first on ours as well. We will see clearly the importance of forgiveness in subsequent chap­ters, which discuss in more detail the consequences of not forgiving.
REFLECTIONS
The way we treat our fellow man is a direct gauge of our relationship with God. The Lord Jesus takes the way we treat others personally.
Forgiveness is so vital to a believer's walk that Jesus included it in the model prayer: "And forgive us our debts, as we forgive our debtors" (Matt. 6:12). Forgiven people have the capacity to forgive those who offend them.
The acceptability of any gift is deter­mined by the acceptability of the giver.
When the fact that we have offended someone, intentionally or unintention­ally, knowingly or unknowingly, willingly or unwillingly, comes to our attention, our responsibility is to drop everything and go to the offended party. Obedience is proof of our devotion to Christ.
STUDY QUESTIONS AND POINTS OF APPLICATION
The first directives in Scripture focus on God's priorities for our lives. Describe why forgiving our offenders is on God's priority list for us.
Identify any relationships in your life where forgiveness is needed.
Attempting reconciliation with others, when a relational breakdown occurs, is the outgrowth of redemption. What is the essential meaning of the word reconciliation?
Do you need to seek reconciliation with anyone?
This chapter was written by Harold Vaughan.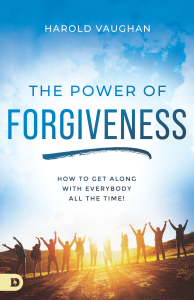 The chapter is from "The Power of Forgiveness". CLICK HERE for information on the book.