I therefore, the prisoner of the Lord, beseech you that ye walk . . . with all lowliness and meekness, with longsuffering, forbearing one another in love. Ephesians 4:1–2
A happy home is a place where family members practice humility. Ah, what a word! "Humility" means to be lowly, genuine, and caring and to have awareness of our own failures. It means to honestly and sincerely address our failures and weaknesses by taking steps to overcome them.
We are reminded throughout God's Word of the importance of humility: "God resisteth the proud, but giveth grace unto the humble" (James 4:6). Jesus Himself practiced humility: He humbled himself and became a servant; He humbled himself and became a man; He humbled himself and became obedient even to death (see Phil 2:7–8). His humility was necessary to provide a way for us to be rescued from our sins. Humility is necessary for us too.
Humility is the foundation of all virtue. It is the cornerstone for all the building blocks required for further spiritual steps. We must come to God humbly in order to be saved. Humility is the foundation of gentleness and patience ("meekness" and "longsuffering" are the old English words). Humility is necessary when we have failed and desire to come back to God. Being humble is the only way we can access God's grace: "Humble yourselves in the sight of the Lord, and he shall lift you up" (James 4:10).
How do we humble ourselves?
Make an honest evaluation of weaknesses. Do we know our weaknesses? We can ask our spouses or kids—they know! Even our response to their perspectives will show whether or not we are humble. For instance, if our wives were to say that we had an anger issue, would we get upset and emphatically deny it—thereby proving that they were right? We can ask a close friend or just evaluate ourselves: Am I easy to get along with? Am I reasonable? Do I always have to be right? Do I get irritated easily? Am I harsh in my responses? Am I unteachable? When we honestly examine our weaknesses and begin to take steps to overcome them, we are on the road to humility and the blessings of God that result.
Take sincere and Spirit-led steps to overcome weaknesses. Humility begins with a cry for forgiveness: "This poor man cried, and the Lord heard him, and saved him out of all his troubles" (Ps. 34:6). If we are harsh with our kids, we need to cry out to God for forgiveness. We need to take steps to become the gentle leaders we are called to be. We need to confess our failure to those we have wronged. If we have never gone to our spouses and apologized for an error on our parts, we are lacking humility. One man told me that he and his wife had been married for nineteen years and had never had a cross word between them. Seriously? I asked him why they weren't living together! No one is that perfect. All of us fail and struggle with our old sin-nature issues, but humility asks for forgiveness. We have to take steps to renew our minds and allow the Spirit of God to teach us to live correctly.
What steps could we take?
First, we can make it a matter of prayer. We should begin by asking God to help us overcome our stubbornness, irritability, or anger. We can ask God to help us become more gentle and loving and easy to be around. Just the act of crying for help evidences humility.
We can also read books or articles on how to overcome our weakness. Good materials abound. A local library or a Christian bookstore offers books on specific topics. We can find a book that addresses particular weaknesses we have and read it.
Finally, we can incorporate truth into our lives. A concordance is a great tool for looking up verses that address our failures. We can memorize those verses, meditate on them, carry them with us. When we humble ourselves enough to incorporate the Word of God into our lives, the Holy Spirit can then take the Word and make us more like Jesus. The result is that we become recipients of God's grace and favor and blessing. This is the path to a happy Christian home!
Action Points
Describe what humility looks like to you.
What are one or two areas of weakness in your life?
What steps are you willing to begin taking to overcome that weakness?
This chapter was written by Evangelist Dave Young.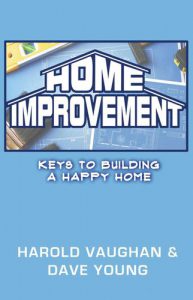 This chapter is taken from our book "Home Improvement- Keys To Building A Happy Home". Click on the link to learn more about this book.