"Be not weary in well doing" (2 Thessalonians 3:13).
You may be thinking that all these stellar qualities mentioned in this book are simply beyond your capabilities. You may be so deflated because of personal failure and weakness that you are tempted to give up. Your inconsistencies may be many, but no setback is permanent, unless you allow it to be so. Should we sin, we have an "advocate with the Father, Jesus Christ the righteous" (1 John 2:1). "Advocate" means intercessor or comforter. He is our divine go-between who comes to represent us before the Father. He mediates for us so we may resume the race before us. Failure is not final because our Savior is constantly available to save us from sin. We persevere in spite of our imperfections.
1 . You can't be perfect, but you can be prudent. Sin entered the race when Adam and Eve were in Paradise. Think of it: the Garden was a perfect place; the first couple were faultless; everything was fantastic—yet sin entered Paradise in the form of a serpent. Satan beguiled Eve and their perfect estate in the Garden was lost. Disobedience brought a horrible curse (see Romans 5:12, 19). Moreover, all their descendants would be born sinners. Adam and Eve chose to sin, but their offspring are born with a built-in disposition to do wrong.
Since the Fall, there have been no perfect people. Abraham was not perfect, but he taught his children the commandments of God (Genesis 18:19). Noah was not perfect, but he got his entire family into the Ark (Genesis 7:1). Job was not perfect, but he sacrificed for his children (Job 1:5). We are beyond perfection, but not beyond prudence! God can give you wisdom for your situation. "If any of you lack wisdom, let him ask of God, that giveth to all men liberally, and upbraideth not; and it shall be given him" (James 1:5).
2. You cannot do everything, but you can do your part. God is not looking for super men; He is looking for submitted men! You can't do everything, but you can fulfill your duty. You can walk in the light you have. You can shepherd your home. You can lead your family. Whatever God commands you to do, He empowers you to fulfill. As a father you are a…
Prophet to protect your family.
Priest to pilot your family.
Patriarch to preside over your family.
Never forget that family failures are not always parental failures. God Himself had two children, and they made terrible choices. Your children also are responsible for their choices.
We have all made wrong choices. We should not expect perfection of our children when we cannot make that boast ourselves! Nevertheless, we can seek wisdom. We can be prudent.
3. You may not have a platform to change world, but you are perfectly positioned to affect your family. Our choices as parents have a shaping influence on our children. How you raise them will affect how they raise their children.
We need a multigenerational outlook. Consider carefully the heart cry of the Psalmist: "Give ear, O my people, to my law: incline your ears to the words of my mouth. I will open my mouth in a parable: I will utter dark sayings of old: Which we have heard and known, and our fathers have told us. We will not hide them from their children, shewing to the generation to come the praises of the Lord, and his strength, and his wonderful works that he hath done. For he established a testimony in Jacob… which he commanded our fathers, that they should make them known to their children: That the generation to come might know them, even the children which should be born; who should arise and declare them to their children: That they might set their hope in God, and not forget the works of God, but keep his commandments" (Psalm 78:1-7, emphasis added).
The fathers were instructed to teach God's commandments to their children in such a way that they would in turn teach their children. It was not the priest's job to instruct the children. It was the father's job! The thoroughness and impact was such that each succeeding generation would carry on this process. The primary communicator of truth in the home is the head of the home.
Be encouraged! Your sense of inadequacy is beneficial because it causes you to rely on God. You have the power to do everything God has ordered you to perform.
To Think and Pray About…
Have you quit when you shouldn't have? Jesus the Advocate will strengthen you when you seek Him!
We may not attain perfection, but we can be prudent as we persevere.
"Lord, may my children's children follow You!"
This chapter was written by Evangelist Harold Vaughan.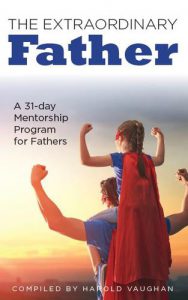 Taken from The Extraordinary Father. CLICK HERE for more information.