"Brethren, I count not myself to have apprehended: but this one thing I do, forgetting those things which are behind, and reaching forth unto those things which are before, I press toward the mark for the prize of the high calling of God in Christ Jesus." (Phil. 3:13-14)
FORGETTING THE PAST. Paul was not only a Pharisee; he was a fierce persecutor of Christians. He, like us, had to choose to "forget", or neglect, the past. Since God has put your past behind Him, you should put your past behind you! Don't ever forget that.
When you look back, you get discouraged. When you look around, you get disheartened. When you look to Jesus, you get energized!
Stop looking over your shoulder. Get your eyes out of the rear view mirror. Quit focusing on your failures and start focusing on your future. Stop talking about your experiences and begin speaking about your expectations.
To get a memory out of your mind, you must begin by getting it out of your mouth. Deal with your guilt by getting your sin beneath the blood of the cross. Confess your sin and move on. If you get reminded of a sin after you have confessed, it is NOT God convicting you again, it is Satan attempting to condemn you! Never doubt this— "The blood of Jesus Christ his Son cleanseth us from all sin" (1 John 1:7).
Everyone has experienced sorrow and loss. Many have endured great tragedies and the subsequent grief. Israel had an appointed time for mourning the death of Moses. But after the designated time, they had to move on. You must let go of the griefs of the past or you can't live. Calvary was the largest "Grief Share Program" in history— "Surely he hath borne our griefs, and carried our sorrows" (Isa. 53:4).
FOCUS ON THE FUTURE. Paul encourages us, "Reaching forth unto those things which are before, I press toward the mark…" You have a God-given mission. Begin to look ahead. Stop looking at the way things are—start looking at the way things can be! The things you dream about today can be your reality tomorrow.
Stretch forward. Reach up and reach out. Renounce your unbelief and embrace a preferable future by faith.
Helps to a Faith Focus
Stop listening to teachers who emphasize Depravity more than Victory. These overly introspective naval gazers will keep you in depression.
Park your mind on the incredible facts and promises from the Word. Peace rules the day when Christ rules the mind.

"Greater is he that is in you, than he that is in the world" (1 John 4:4).
"I can do all things through Christ which strengtheneth me" (Phil. 4:13).

Pay no attention to your feelings, give full attention to your faith.

"This is the victory that overcometh the world, even our faith" (1 John 5:4). FAITH in the FACTS will affect your FEELINGS in time.
Recommended Resource
Read the Blog article: "Getting Past the Past"
This chapter was written by Evangelist Harold Vaughan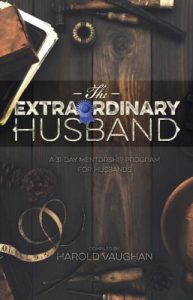 The chapter is taken from The ExtraordinaryHusband. CLICK HERE for more information.