We have lost the eternal youthfulness of Christianity and have aged into calculating manhood. We seldom pray in earnest for the extraordinary, the limitless, and the glorious. We seldom pray with any confidence, for any good to the realization of which we cannot imagine away. And yet, we suppose ourselves to believe in an Infinite Father.
The natural man calculates results. Calculations have no place in our relation with God.
That matter which has been so burdening us just now, and with which we can see no way of dealing, how are we praying about it? In anxiety, or with thanksgiving?
Worrying prayer defeats its own answer; rejoicing prayer gets through. "In nothing be anxious; but in everything by prayer and supplication with thanksgiving let your requests be made known unto God." Then will come the answer "exceeding abundantly above all that we ask or think."
The more we are cut off from human help, the greater claim we can make on Divine help. The more impossible a thing is to human or mortal power, the more at peace can we be when we look to Him for deliverance.
"Only those who see the invisible can do the impossible!"
Source Unknown
*From OASIS Devotional—Compiled by Harold Vaughan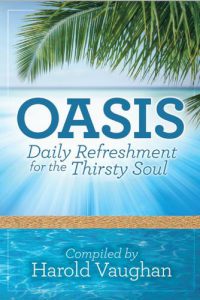 CLICK HERE for more information on the book