"Likewise, ye wives, be in subjection to your own husbands; that, if any obey not the word, they also may without the word be won by the conversation of the wives" (1 Pet. 3:1).
This final chapter is for a special group of ladies: wives with unsaved husbands. Over the years, I have met scores of ladies who love God and serve Him, yet their husbands are unsaved and have no desire for spiritual things. I have seen your heartache and tears. I want to encourage you not to lose hope.
Take the preceding chapters and apply the truths in them to your life and marriage. Ask God to make you a godly wife, an extraordinary wife. Ask Him to make you a light in your husband's darkness. A beacon in the storms of life to point him to Christ. That he will see Christ in your life.
Next, I would encourage you to pray fervently in believing faith for your husband to be saved. Keep praying even when there seems to be no response in your husband's life.
Claim verses of Scripture and pray them for your husband. "I pray, Lord Jesus, that my husband will come to understand what you meant when you said, 'Whosoever therefore confesses me before men, him will I confess also before my Father which is in heaven' (Matt. 10:32)."
Other verses to pray are John 3:16–17, 6:47, Luke 19:10. Find verses and turn them into prayers to pray back to the Father concerning your husband's salvation.
Enlist other ladies to pray with you concerning your husband's salvation. Set aside special times for prayer and fasting for your husband. Storm Heaven on his behalf.
Finally, realize that your timetable and God's timetable may not be the same. It may take time for God to break through to your husband's heart—but He is able! Don't give up hope just because there seems to be nothing happening in his life. As long as there is life, there is hope!
I heard the story of a lady in the mountains of West Virginia. Chappie was a Christian married to an unsaved man. Her life was not easy, but she chose to believe that God would save her husband. In fact, she would give testimony of thanksgiving each Sunday for the day when her husband would be saved. She thanked God that she would no longer have to come to church alone, that she would not have to say grace silently before she ate, that life would be grand when her husband was saved. Many years went by, and the man who told this story ran into Chappie. Her husband had since passed away, but he asked her if her husband had ever accepted Christ. Chappie smiled and said, "Yes." He asked her how life was when her husband got saved. With a smile on her face, she began to tell him how wonderful it was to have someone to go to church with her, someone to pray with her. It was wonderful when her husband became a Christian. Then the man asked, how many years did you pray for your husband? Her answer, "Just 33 years, just 33 years."
When you are discouraged and think it's no use to pray anymore, remember Chappie and pray on! Don't lose hope—God is able.
"But I will hope continually, and will yet praise thee more and more" (Ps. 71:14). As for me, I will always have hope!
Action Points:
Pray fervently today that God would meet your husband wherever he is. Have hope in the fact that God hears your prayers and is working out all things for your good.
No matter what challenges you may face in your marriage, never forget this simple fact: God is able!
This chapter was written by Debbie Vaughan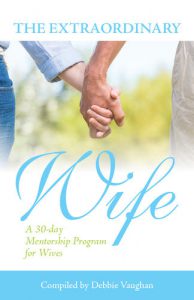 This chapter was taken from The Extraordinary Wife. CLICK HERE for more information.