"I wisdom dwell with prudence, and find out knowledge of witty inventions." (Prov. 8:12)
"If any of you lack wisdom, let him ask of God, that giveth to all men liberally, and upbraideth not; and it shall be given him." (James 1:5)
You will be remembered either for the problems you CAUSED or the problems you SOLVED. Some people initiate problems while others exterminate problems.
You cannot change the way you were raised, but you can learn from it. God's grace can cause you to rise above all you have experienced, known, and heard. The Holy Spirit is an overcomer. As you come under His mentorship, you will discover a progressive sanctifying work in your soul. He will empower you to overcome lust, laziness, anger, meanness, impatience, and unbelief. You can never lead others farther than you have travelled. Whatever season you happen to be in currently is only temporary because you are "on the grow."
Male leadership MUST be revived. God wants to impart His wisdom and ingenuity to you.
Becoming a Problem Solver
View problems as opportunities for God to work. He has all wisdom, resources, and power at His disposal. Don't run away from difficulty, run toward the solution.
Stop ignoring the obvious. Don't stick your head in the proverbial "sand." Resist all tendencies toward passivity. Confront situations with grace and truth.
Your wife is your primary assignment. Thank the Lord for other godly influences in your wife's life: her friends, your pastor, and others, but you are to shepherd your wife. Supplementation may be needed, but you are "the man"! You will notice things others will miss.
Step up to the plate! Don't delegate problems to your wife by default. Take the pressure off her by intervening in situations that need attention. Caleb had faith, fortitude, and holy fire burning in his heart. The majority of the Israelite men were wimps and whiners. But Caleb was a WARRIOR. He had a different spirit in him—the Holy Spirit!
Cry out to your Heavenly Father. He has what you need when you need it. "Call unto me, and I will answer thee, and shew thee great and mighty things, which thou knowest not" (Jer. 33:3).
Further Helps:
This chapter was written by Evangelist Harold Vaughan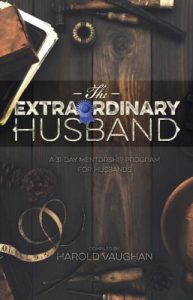 The chapter is taken from The Extraordinary Husband. CLICK HERE for more details.