"Search me, O God…" (Psalm 139:23).
We have the honor to pray and do impossible things for God. The number one hindrance to American revival is not unanswered prayer, but unoffered prayer. God's people have a responsibility to pray. We have the right as Americans to pray, and we need to take advantage of the unequaled privilege to live and practice our faith in this nation.
I was representing a pastor in Texas, and his court case was going terribly. The judge was against us, and the other side was unjustly suing the church and this pastor individually. The jury did not seem convinced of the church's innocence. The pastor called me up to his room and told me we needed to pray because all of our efforts were failing. We needed God's presence and power in this case.
I agreed, and he told me to pray, confess, and get clean before God. For over an hour we prayed, confessed, and got clean before the Lord. Psalm 139:23-24 says "Search me, O God, and know my heart: try me, and know my thoughts: And see if there be any wicked way in me, and lead me in the way everlasting." We ought to ask God to search us and show us all our sins to repent. He will. And when He does, and we confess, "He is faithful and just to forgive us our sins and to cleanse us from all unrighteousness" (1 John 1:9). Getting clean before the Lord will allow you to be once again filled with His Spirit. When we are full of self, we are empty of His grace and power.
After we had prayed for over an hour for this case, confessing and asking God for His power, the pastor asked the Lord to do three things: First, he told God that the judge hated us, and he asked the Lord to make him really sick so that we could be given a new judge. He said he did not want the judge to die because he did not think he was saved, so he only wanted him sick. Second, he asked the Lord to make the opposing lawyers argumentative with each other, so much so that they could not function as a group. Third, he told the Lord that all this was for His glory and to help His church, and that we had emptied ourselves from it. Now that we were out of it, all the limitations were too, and God could do something miraculous.
Back at court the next day, there was a commotion on the other side. We could see the attorneys exchanging angry looks. The pastor looked at me and grinned. He told me that the Lord had heard our prayers.
When the judge walked in, he asked the opposing counsel if they were ready to proceed. They started to argue loudly. One of the lawyers stood up and said that they all disagreed with each other, that they should never have brought this case or sued the pastor in the first place!
The judge told them they were crazy because the jury was listening to this! The pastor leaned over to ask me if he should tell them what was happening. I told him not to because the next thing I'd know he would be telling the judge to start heading to the hospital too. Within thirty minutes, all charges were dropped against this pastor. The Lord had heard our prayers and had intervened in an extraordinarily miraculous way.
One of the biggest pitfalls that will ruin the Christian walk is pride. When we are filled with ourselves, we are empty of the things God wants to fill us with. God tells us He resists the proud, so when we sin in our pride, we not only stumble in sin, but also God is against our efforts. When we struggle and begin to think we are something or we have done something in our own efforts, we should take heed lest we fall. God hates pride, and he condemns it frequently in Scripture. The cure to pride is humility, and we must humble ourselves—or the Lord will do it for us.
We need to be a people of prayer if we are going to reach this world with the gospel. Prayer moves the mighty hand of God, and we have the privilege to speak with the God who created everything. Take time to pray today.
To Think and Pray About…
How wonderful it is that God allows us to have access to Him by prayer!
Suggest three things that obstruct your prayer life; what can you do to remove these obstructions?
The psalmist asks God to "search [him]." Are you endeavoring to walk with God without any wicked way in you?
This chapter was written by Attorney David Gibbs – founder of The Christian Law Association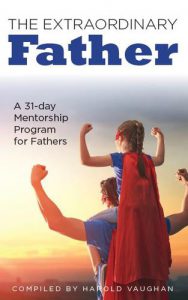 Taken from The Extraordinary Father. CLICK HERE for more information.