Husbands, love your wives, even as Christ also loved the church, and gave himself for it. Ephesians 5:25
Love is one of the great foundations of a happy life, marriage, and family. "God is love," we are told in 1 John 4:8. Ephesians 5:2 says, "Christ also hath loved us, and hath given himself for us." For those of us who are husbands, we are never more like our Savior than when we love our wives. It brings joy to us, our wives, and our entire families.
How can a husband love his wife? Here are three suggestions.
Be committed to God. God commands the husband to love his wife and lead his home. While we quite often separate these two commands, they are intended to be glued together in the same packaging. We cannot lead our wives and homes unless we love our wives, and we cannot love our wives unless we are leading them and our homes. When we are following God and walking with Him, we are putting ourselves into the right place to love and lead. When we are meditating on the Word of God and becoming increasingly Christlike, it provides the foundation necessary for us to love our wives and be everything God wants us to be. Our wives need and deserve to be loved.
Communicate with her and about her. Communication is perhaps one of the greatest gifts we have been given by God! It is essential that we learn to use this gift in our relationships with our wives. Someone has said that love makes the world go 'round, but miscommunication makes marriage go 'round and 'round! Communication is the key to keeping two people on the same page. It is essential for keeping the love alive. Too often we men allow our communication to be only task-centric and fail to remember that communication is intended to make our marriages pleasurable.
We need to be personal with our praise. We should tell our wives that they are loved and that they are lovely. The writer of the Song of Solomon can teach us a few things on this topic. He used amazing words and powerful illustrations from the culture and beauty around him to describe his wife. Now I don't recommend using his exact words ("thy hair is as a flock of goats" [Song of Sol. 6:5]), but we can learn to praise our wives in specific and powerful ways that demonstrate our love for them.
We need to be public with our praise. We should always, and I mean always, speak well of our wives to others. We should praise them at work, praise them to our children, praise them to their parents and to ours. When we are public with our praise, our wives will hear of it, and it will make our marriages incredibly powerful. Nothing will destroy a marriage faster than public insult. We should never, ever, be the kind of husband who disparages his wife.
We need to be passionate with our praise. This will put fizz in our marriage. Our words should be sweet. They should be spicy. We should make sure "I love you" is a regular part of our marriages—in every text and every phone call. We should write it down, and we should say it out loud! Our words need to be soft and sensitive. We should be gentle-men and lovers and pursue our wives with our praise. Our words should strengthen our wives. Our passionate praise will result in a passionate marriage.
Show care and concern for her. This is a big one. Do we care for our wives—with their emotions and their frustrations and their times of the month and their aging bodies? Whether we do or not can create a make-or-break situation. Many men complain and joke and sigh and roll their eyes regarding their wives instead of caring for and showing concern for them. We should always have eyes only for our wives. As we age together with our wives, we can still be madly in love with our wives and sincerely pursue them sexually. Our wives should be the only ladies we ever see, not only in the privacy of the bedroom, but also in the privacy of our thoughts. We should care for our wives when they are struggling and look for ways to make things easier for them. We need to be aware of them and concerned for them. We should serve our wives! We need to express gratitude for all they do and take every opportunity to spoil them.
This is called love, and it will make our marriages amazingly powerful.
Action Points
Husband, how committed are you to loving your wife and leading her and your family?
What steps could you take to improve your communication with your wife this week?
What changes do you need to make in order for your wife to sense that you care for her and are concerned for her?
Written by Evangelist Dave Young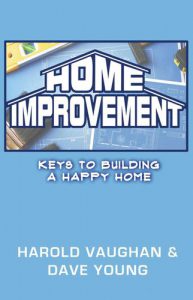 This chapter is taken from Home Improvement – Keys to Building a Happy Home