Ye fathers, provoke not your children to wrath: but bring them up in the nurture and admonition of the Lord. Ephesians 6:4
Raising children is one of the greatest responsibilities we as parents will ever have. It is a never-ending job. Some parents have tried and eventually given up. Some never even begin to train. But failure in the home is one of the most tragic events in life. Success, on the other hand, is one of the most glorious events! Failure or success largely depends on the fathers. It is imperative that we get busy and win. How do we do it? Here are four plain truths.
Don't provoke children to anger. For those of us who are dads, we often fail in this area. But when we do, we effectively damage our children's growth and success. Sometimes we harass our children rather than communicate simple expectations (giving them rules). Often we are inconsistent, busy, and demanding. We fail to communicate, or we impose unreasonable expectations on our children. When a father expects his son to be the star he never was (or that he may have believed himself to be), it can produce anger in his son's heart. Many times a dad provokes his children to anger by being angry himself. I have counseled teens whose fathers have thrown tools, kicked walls, and sometimes even kicked their sons or daughters. I have counseled families in which the dads continually raised their voices not only at the kids but also at their moms. If a dad is this kind of man, he is not right with God and must change.
Provide optimal conditions in which children can grow and succeed. This is a great truth. Paul reminds us to raise our children in "nurture" and "admonition." This simply means we are to provide the best possible conditions for our children to grow and thrive in. Raising children is like gardening. In gardening we have to prepare the soil, sow seeds, pull out weeds, water plants, and invest lots of time in allowing the plants to grow and produce fruit. With our children we will discover many weeds that we need to remove—wrong behaviors, wrong friends, and wrong influences are just a few. We need to sow God's Word in their hearts. We have to pray for them and with them. We have to invest a lot of time—eighteen years or so—to really succeed! It is a never-ending job but one well worth the time and effort.
Continually teach children. No dad can succeed apart from teaching his children. We must teach our children obedience. Genuine obedience is accomplished when our children respond to us quickly and happily without having to be harassed. We must teach our children how to live. They won't know how to work unless they are taught. They won't know how to handle finances either. We must also teach our children the Word of God.
All this is easier than it first appears. When we are working on a project, we can include our children and show them how to do it. We can take a few moments every day to read a few verses to our children. As often as possible, we should mention God's Word to them. We can do this while we are watching television, walking the mall, driving, or working. Teaching should be a normal and daily part of our lives.
Bring children up to love and serve God. In a happy Christian home, we train our children, pray with them, correct them, and teach them to love and serve the Lord. In a sense, none of us can evaluate our success until we have grandchildren. God's Word teaches us to succeed so wonderfully well that our children will know how to train their own children to succeed wonderfully well too (Ps. 78:5-7).
Dads, we can win! Success with our children is one of the most glorious events in life.
Action Points
Fathers, can you see anger in your children that is caused by your own lack of self-control? Are you willing to confess your part as sin and ask your children's forgiveness?
How successful are you at teaching your children? Do you have family devotions? Do you include your children when you are working so that they can learn how to do jobs?
Can you identify any "weeds" that need to be removed from your children's lives? What steps could you take to handle those weeds in the best possible way?
Written by Evangelist Dave Young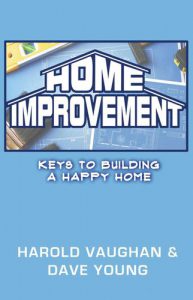 This chapter is taken from Home Improvement – Keys to Building a Happy Home