Be filled with the Spirit . . . giving thanks always for all things unto God and the Father in the name of our Lord Jesus Christ. Ephesians 5:18, 20
What does the word "thankful" mean to you? Does it primarily make you think of Thanksgiving Day and of overeating with awkward family members whom you rarely see? Does it make you think of all the times your mom reminded you to say thanks? When gratitude is part of a home, the family that lives in that home is a happy one—or at least well on its way to being happy. When gratitude is not part of the home, the family that lives there is an unhappy one.
Consider all the things that gratitude accomplishes: It warms our hearts. It lifts our spirits. It helps us see our blessings and diminish the negatives in our lives. It endears us to others and makes us happier. It can make an unpleasant or laborious task more tolerable: expressions of gratitude like "Thank you for doing the dishes," "Thank you for taking out the trash," and "Thank you for washing and folding the laundry" are uplifting. Gratitude expresses love to those around us. It shows appreciation and kindness. It expresses concern and awareness.
A lack of gratitude, on the other hand, easily leads to resentment, anger, selfishness, and rudeness. This in turn results in griping, complaining, and unhappiness.
Isn't it amazing that gratitude is so very powerful? No wonder we are told, "In every thing give thanks" (1 Thess. 5:18), and, "In every thing by prayer and supplication with thanksgiving let your requests be made known unto God" (Phil. 4:6). Grateful people and grateful families are happy!
How can we cultivate thankfulness in our lives?
Continually count our blessings. You may know that old hymn, "Count your blessings, name them one by one; count your blessings, see what God has done!" Years ago when I was at Bible college, the student body began each meal by singing a hymn and praying. Many, many times we sang the words to "Count Your Blessings," and to this day hearing those words makes me hungry! The words are true though, aren't they? How often do we pause to consider God's goodness in our lives? We should thank Him for health, provision, friends, peace, protection, love, and joy.
Say thank you frequently. Do you consider yourself a thankful person? Note this: you aren't thankful if you seldom say thank you! In our families we should say thank you to the person doing the chores. We should say thank you to the person who made the meals. As parents, we should demand expressions of gratitude of ourselves and from our children as well. Learning to say thank you is vital.
Develop thanksgiving habits and routines. This has been a delightful aspect of my home. Our family has developed habits and routines to show our thankfulness. Here are a few ways we have done so:
We say thank you when we are seated at the table, and all of us men stand for Mom until she is seated. It not only shows gratitude for her hard work in preparing the meal, but it honors her as well.
We celebrate birthdays by sharing reasons we are thankful for the one whose birthday we are celebrating. Everyone participates. Words like "I am thankful for you because you always give me hugs" or "I am thankful for you because you always encourage me when I am feeling down" go a long way toward making our home happy!
We take one or two nights a week to have a thanksgiving devotional time. We simply sit down together and, before we pray and say goodnight to each other, we share words of gratitude. Sometimes these words are funny. Other times they are silly. Many times they are serious and encouraging.
We try to make holidays and special days wonderful times for thanksgiving. Thanksgiving, Christmas, and New Year's are especially so, but so are Valentine's Day and Independence Day.
We should cultivate thanksgiving. It will produce happiness in our homes.
Action Points
Do you consider yourself a grateful person? If not, what changes will you make in this area this week?
What could you do in the next few days to model gratitude specifically to your spouse and to each of your children?
What are some ways you can incorporate thanksgiving habits and routines into your family life on an ongoing basis?
Written by Evangelist Dave Young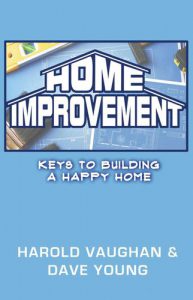 This chapter is taken from Home Improvement – Keys to Building a Happy Home