Jesus said the greatest commandment is to love God with all the heart. The second great commandment is…"Thou shalt love thy neighbour as thyself" (Mark 12:31). The word neighbor means "close by." Your wife is your nearest neighbor, and you are commanded to love her!
Remember Important Days. Start with the basics: birthdays, anniversaries, holidays, and dates that are important to her. Plan things that are special and out of the ordinary. Go overboard on occasion. Everyone invests their treasure in the people and causes that they value. Next to God, your marriage is your most important relationship on earth.
Make Memories. Look for opportunities to celebrate. When our children were growing up we used every possible occasion to have a party. We knew our children would soon be gone so we worked at making our home a happy place. Once they moved on, we wanted them to have such pleasant memories that they would want to come back home, not look for excuses to stay away. While planning for the future, don't neglect to enjoy the present.
Once you are married you are going on the journey anyway—you might as well enjoy the ride! Think ahead. Plan a vacation or surprise getaway. This will require forethought and planning.
Focus on Her Happiness. Intentionally do things that she likes. The early stage of married life is about pro-creation. Later on, the act of marriage is about recreation. The final stage is about imagination! Physical intimacy is only a small part of marriage, but it is IMPORTANT. She is a person who deserves respect and loving treatment. Make it your business to be a giver, and not just a taker.
Dare to Dream. Think about your future together. What kind of home do you want to live in, when and if you retire? List the places you would like to visit with your wife. Do you have a dream vacation? Write down some life goals. Talk about these kinds of things.
Discover her interests and dreams. Be a partner who is fully vested in your wife's happiness.
This chapter was written by Evangelist Harold Vaughan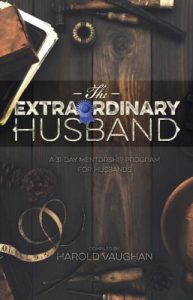 The chapter is taken from The Extraordinary Husband. CLICK HERE for more details.