"As for me, I will behold thy face in righteousness: I shall be satisfied, when I awake, with thy likeness" (Ps. 17:15).
Change. It's always hard. Even good changes take some time to get used to, and adjustments are part of the process. I found myself in a super huge change a few years ago that, honestly, I struggled with. Big time! I took a seat on the struggle bus, and it was a long ride. Too transparent? Perhaps. But I figure if a ministry wife struggles, then maybe some other women might also.
My hubby and I started a church in 1990 and were privileged to serve there as pastor and pastor's wife for 21 years. We loved the people and the area. For many years as a congregation, we were praying for the Lord to call out a couple or family to go into missions work. Little did we know that we would be that family! I realize that changing ministries, from pastoring to missions, might not sound like a big deal; but in my heart, it was huge. It wasn't that I didn't want to go—I just didn't want to leave.
My fleshly heart kept listing all the things that I was holding onto that I thought I needed: a specific church family, a church building (church planters will know what that means), friends, family, a large piano studio, familiar surroundings, a comfortable position as a pastor's wife. The list went on. Ultimately, I knew that this was what God had called my husband to do; I needed to submit not just to him, but to the Lord.
One morning after our move when I was having a small pity party for myself, the Lord showed me Psalm 17:15. Let's look at the Who, What, When, and How of this verse.
Who? Our verse starts out with "as for me" and uses personal pronouns "I" and "me" four times. This verse is for me! It is for you! But look at the other "Who" of this verse. Not a friend, husband, child, ministry, money, job, or good health. But the Lord: "Thy face," "Thy likeness."
What? What is the focus of this verse? David uses the word "satisfied." This word has the idea of full, saturated, satiated, having plenty, not wanting, and more than enough. If you have ever gone to an all-you-can-eat buffet, you understand the meaning of this word! You know that feeling when you cannot possibly put another bite of food into your stomach? So, what is this verse saying? Jesus, and my relationship with Him, should be enough for me. I don't need anything else (even the good things that I listed above) to make life work for me. The New Testament uses the word "content" to mean the same thing. Being unsatisfied usually shows up in four different areas: my possessions (what I have), my position (who I am), my plans (what God allows in my life), and my practices (what I do). If you find yourself always questioning God in any of these areas, then you are not content. You are not satisfied with Jesus alone.
When? Our verse says "when I awake." I need to be satisfied with Jesus every single day. Notice this is a choice that I need to make on a daily basis. There are no strings attached. No prerequisites. There is nothing natural about being content. Paul states that he had to learn to be content (Phil. 4:11). There is hope! Contentment might not come naturally, but I can learn it!
How? The word "behold" gives us a sense of how I can be satisfied with Jesus. This word means to gaze at, mentally perceive, or contemplate with pleasure. How do we gaze on our Lord? Until we reach Heaven and see Him face to face (see 1 John 3:2), I gaze by reading His Word. I dig and find out as much as I can about Him through what He wrote to me. The more I learn about Jesus, the more I want to be like Him and the more I know He is enough for me.
Action Point:
Ladies, live out the reality that Jesus is enough for you. Don't wait for the perfect job, a better husband, stronger health, another pair of shoes, more money, well-behaved children, a cleaner home, or anything else that you think you need. Be so satisfied with Jesus that there isn't room for anything else!
This chapter was written by Sheri Privett. She is a wife and mother. She and her husband are involved in missions and church planting. They reside near Greenville, S.C.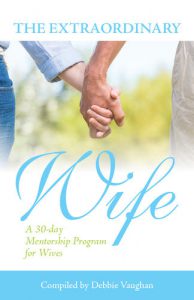 The chapter was taken from The Extraordinary Wife