"Not forsaking the assembling of ourselves together…" (Hebrews 10:25).
Jesus died for the church, we are told in the Bible. "The gates of hell will not prevail against the church," Jesus said. The church is as old as the ministry of Jesus Himself and is a vital part of any father's success as well as the success of his family.
In essence, it is an assembly of believers. The word itself reminds us that a church is more than just a building. It is a local body of believers meeting "together" for the purpose of corporate worship and prayer, to learn God's Word, and to provoke one another to love and good works. In the book of Acts, the local church met for prayer and saw miraculous answers. They met to learn doctrine and grew as a result. They assembled to preach the gospel and multitudes came to Christ. They met to hear special guest speakers and as a result, many were influenced by great preachers like Paul the Apostle. The local church is important! In order to be an extraordinary father, one must be active in his local church. Here are a few suggestions:
Choose a church wisely. Choose a church that provides the best spiritual instruction. A pastor who teaches God's Word so that you can apply it to your daily living is a wonderful pastor to have. A church that includes opportunities for your children to grow and to serve is a church worth attending. My own children love the youth group, enjoy singing, and serve as ushers, van workers, and soul-winners. A church that strengthens your marriage relationship is a wonderful church as well. Look for one that allows you to grow spiritually and that partners with you in helping your family to succeed.
Attend church faithfully. Attend every service possible. I center mine, and my family's lives, on the church. Some men don't attend Sunday evening services, for instance, because that is their "family night." Why make the two exclusive? It is our family night! We attend together. The trip back is a time to talk, listen, and discuss the service and the sermon. The service is a time of learning, growing, worshiping, and giving. We always plan special events following the services. Sunday afternoon we have a home-cooked meal and sit, talk, laugh, and discuss what we learned. It is a quiet time of rest, relaxation, and refreshment. After the evening service, we have another meal and pair it with a family game or a movie night or even a get-together with some close friends.
Some men choose to skip church because of their hobbies. Perhaps it is hunting or golfing or some such activity. If we have to choose between the two, wouldn't church be more important? I need to grow spiritually in order to know how to best direct my home and family. I need the strength that comes from fellowshipping with other brothers. My family needs the strength that comes from fellowshipping with other families. I don't know that I have ever met a man who is a better Christian and who has a better Christian family because he skipped church. He is typically only a busier man—not a better one!
God's plan for me and you includes His church. It is part of His design that we pause to reflect, rest, and worship. "Be still," He says, "and know that I am God." Faithfulness to His church regularly provides this. It is part of His design that we lead our families to know, love, and serve God.
It is also part of God's design that men lead their homes so they can lead in His church. Every congregation needs faithful and godly men who can teach others. Every assembly needs faithful and godly men who can serve as deacons and elders. The two go hand in hand. If I fail to have the right relationship to Christ and His church, it will have a negative effect on my family. Every statistic and illustration says so. If I fail to have a right relationship with my family, that will have a negative effect on my service in the body of Christ. God's Word makes that abundantly clear, too.
So, here is the crux of the matter: an extraordinary father will be active in his local church. He will support it. He will give. He will pray. He will be faithful to attend. He will serve. He will help his church to grow and, in the process, help his own family to grow as well.
To Think and Pray About…
Thank the Lord that He incorporates us in His church!
Identify three benefits of regular church attendance suggested here. Which of these do you most need to work on?
"Lord, help me to glorify You in my family's church involvement."
This chapter was written by Evangelist Dave Young.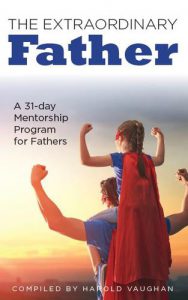 Taken from The Extraordinary Father. CLICK HERE for more information.