"After that the Holy Spirit is come upon you ye shall receive power." (Acts 1:8)
The Christian life is impossible apart from the Spirit of Christ. F. B. Meyer said, "It is not your responsibility to live the Christian life, rather it is your RESPONSE to HIS ABILITY." We cannot manufacture the fruit of the Spirit. Love, joy, peace, longsuffering, gentleness, goodness, faith, meekness, and self control are not difficult, they are impossible on the human level. "But with God all things are possible."
Samuel Chadwick noted, "The church still has a theology of the Holy Ghost but it has no living consciousness of His presence and power." Doctrine without practice is foreign to the New Testament. Being filled and stimulated with the Spirit (Eph. 5:18) is an imperative addressed to the will. This is not a preference or suggestion, it is a commandment. Spirit-filled living is not a luxury only available to the spiritual elite. This is a bedrock truth for ALL of God's people. This is especially true when it comes to the home.
You are NOT going to make it on your own! You must daily yield to the control and animation of the Spirit.
Keys to the Spirit-controlled Life
You Must Acknowledge the Indwelling Spirit. "What? know ye not that your body is the temple of the Holy Ghost which is in you" (1 Cor. 6:19). Christians are the dwelling place of God. His Spirit lives inside His people. But this must move beyond the theoretical into a living reality. Has this vital truth been reduced to tidbits of information stored in the mind with little practical effect on your life? Could it be that the heart, which is only about 18 inches from the brain, is totally untouched by this glorious fact? Has the "anti-supernatural" bias robbed conservative Christianity of power?
If you have cancer, there is not a day that passes without thinking about the plague inside you. So how is it possible that this indwelling "treasure" is unrecognized, irrelevant, and ignored? The Spirit waits to be acknowledged.
You Must Honor the Spirit. Parents are honored when children consult them before making major decisions. It is appropriate that children seek counsel, wisdom, and advice from their parents. How much more important that God's children seek His wisdom and counsel. You honor the Spirit by opening the ears of your heart to Him. Give Him permission to speak to you today. Listen to His speaking voice. He speaks through His Word, and by impressing your mind and conscience.
The Bible gives implicit commands:
"Grieve not the holy Spirit of God" (Eph. 4:30). The word "grieve" means to offend, sadden, or vex. The Holy Spirit is a very sensitive person. He is distressed when we choose to sin. God is honored when we heed the checks of His Spirit.
"Quench not the Spirit" (1 Thess. 5:19). To quench is to extinguish, suppress, or subdue. The Spirit must be given His proper place in our hearts moment-by-moment.
You Must Heed the Spirit. Indulge every holy desire. Obey every prompting. Act on your burden to witness to someone. When God's Spirit puts a check on your spirit and tells you to keep quiet—OBEY!
You Must Daily Receive the Fullness of God by Faith. We relate to the physical world through our physical senses: seeing, hearing, touching, tasting, and smelling. But no one can relate to God through the physical senses. The only way to interact with God is through the sixth sense—FAITH.
After you get your sin under the Blood, you must get your soul under His control. ADMIT your desperate need. ASK God to fill you. APPROPRIATE His fullness by faith.
Prayer:
"Holy Spirit, I ask you to fill me NOW. Thank you for anointing me with power to live a holy life today."
This chapter was written by Evangelist Harold Vaughan.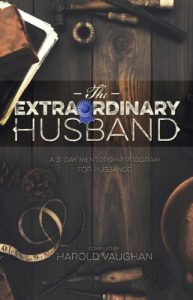 This chapter is taken from "The Extraordinary Husband". For more information on the book CLICK HERE.