"Walk in love, as Christ also hath loved us." Ephesians 5:2
Mary sat at Jesus' feet (see Luke 10:39). Peter fell before the Lord (see Luke 5:8). Paul instructed us to stand against the schemes of Satan (see Eph. 6:11). Now here in Ephesians 5:20 Paul wrote that we should walk in love.
Walking implies movement, routine, activity—the footsteps of daily life. Paul encouraged us to con-duct our lives in a climate of love. This thought is echoed in John's first epistle: "My little children, let us not love in word, neither in tongue; but in deed and in truth" (1 John 3:18). Walking in love is more than being congenial and expressing emotion. Love has backbone. John made clear that syrupy words were not his intended goal when he said, "Let us not love in word… but in deed and in truth."
What does this mean? How can we practically "walk in love" in our homes? Let's consider several insights that will help us make our homes loving, happy places.
Love is more than words. We can be nice without loving people. We can be civil without loving people. We can flatter without loving people. Yes, kind words are easier to swallow than gruff ones, but the love walk advocated in Ephesians 5:20 goes way beyond speaking. It is deeper than syllables, sounds, and verbiage. God's love extends far beyond this.
Love has teeth. God loves His own and brings us loving correction as needed (see Heb. 12:7–11). Divine chastening is the proof of sonship. God does not allow His children to get away with misbehavior; He always imposes consequences on us when we sin. Parents who love their children discipline their children. Discipline is proof that they care enough to correct. When we as parents let things slide, make idle threats, or give repeated instructions, our words are divorced from our actions, and this hinders our children's character development. We can and should train our children to obey instantly and completely with good attitudes. Our instructions must be followed up with corresponding measures that demonstrate that we expect compliance. Correction is the proof of love.
Love is seen by deeds. Jesus not only declared His love for us, but He also demonstrated His love for us by giving His life to redeem us. His expression of love was costly beyond description: "Greater love hath no man than this, that a man lay down his life for his friends" (John 15:13). What we do will be remembered more than what we say. In our homes our actions are the evidence of our love. Tangible things like words, gifts, and self-sacrifice demonstrate our love. It's impossible to love apart from these kinds of expressions.
We can do right even when we don't feel right. We can be cordial when we don't feel like it. Loving in deed means rising above our emotions. Maturity means no longer being held hostage to our impulses. Jesus rose above normal human responses when He faced the cross. His will triumphed over natural inclination as He deliberately gave His life to pay for our sins. Talk could never have settled our debt of sin. It took the deed of Calvary to deliver us from our bondage and alienation.
Real love is truth based. Biblical love does not mask the truth, void the truth, apologize for the truth, neglect the truth, or conceal the truth. What does it mean to love "in truth"? God's Word, the Bible, is our plumb line. The written Word is our sole authority and basis for life's decisions. It defines right and wrong. Its principles are our wisdom. Its instructions are our blueprint for family life, child training, marital relations, financial decisions, and passing the generational torch. The followers of the Lamb are Word centered. Those who walk in love would rather hurt us with the facts than comfort us with a lie. There is never advantage in downplaying the truth. God commands us to speak "the truth in love" (Eph. 4:15).
Action Points
Is your home permeated with a loving atmosphere? What has contributed to the current atmosphere within your home?
What Bible truths might you have neglected to apply in your home? What are some scriptures you can memorize that will help you put these neglected truths into practice?
Talk is cheap; love is costly. Pinpoint one deed you need to implement in your home to demonstrate your love to your family members—and then carry it out.
This chapter was written by Evangelist Harold Vaughan.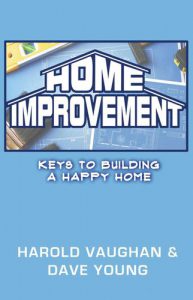 This chapter is taken from our book "Home Improvement- Keys To Building A Happy Home". CLICK HERE to learn more about this book and to place your order.