"And because he was of the same craft, he abode with them" (Acts 18:3).
A marriage consists of a couple, and that obviously means two people. No more do they face life alone, and what a joy that is! Ecclesiastes even says that two are better than one! That is true for so many reasons; but, oh, how wonderful when that married couple comes together to open their hearts and their home to show hospitality.
One of the best examples we see of this is in Aquila and Priscilla in Acts 18. Here was a married couple who were tentmakers. They opened their home to Paul because of the common trade they shared. We don't know if this couple were already believers before this time, but living with the Apostle Paul surely gave them the truth they needed to trust in Christ and to know Him intimately. Imagine the discussions these three may have had in their living quarters!
Aquila and Priscilla were later used to encourage Apollos in God's Word, teaching him the "way of God more perfectly." They used their home for the church in Ephesus, and eventually became fellow-workers with Paul "laying down their own necks" for his life.
When a couple begins a life together in a home, that residence is best used when its doors are open to give the Gospel, teach the Word, welcome strangers, and love the lost, the hurting, and the needy.
What would the Priscilla-life look like in your home?
Be a part of a team in showing hospitality. When Aquila and Priscilla welcomed Paul into their home, they had to agree. This probably came from the days and years of working together at their trade. They were co-laborers. Find the best way to help your husband be hospitable. Learn to be his right arm in opening your home. Aquila may have sat in the living area making conversation with Paul while Priscilla baked the bread. Let your husband do what he does best, while you do what you do best.
Be on the lookout for those who need your hospitality. Just as Paul met Aquila and Priscilla in the marketplace, God will bring people to you at church, in your neighborhood, or in other unsuspecting places. When I was a teen, my mother opened our home to her great aunt from England who had no family and later to a prodigal teenage girl. My daughter and son-in-law have recently opened their home to foster children. A Hispanic couple at my church frequently open their doors to Spanish-speaking people, who come to their farm to buy eggs.
Children who need the Gospel can be welcomed to have Bible Club in your living room. Evangelists or missionaries on furlough need a home-cooked meal and a place to rest. Visiting attendees at church need an arm around their shoulder and an invitation to join you on your pew and maybe for dinner afterwards.
Be prompt rather than perfect in your hospitality. Put away the Pinteresty perfect ideas and just relax. Pull out coffee cups and cookies, sit at the kitchen counter, and share God's Word. Open your guest room with a comfy bed, a lamp, and maybe a place for your guests to sit, read, or study. A crockpot of chili and French bread make a perfect meal to serve to guests after church. If you wait until you have a perfect home, the perfect amount of time to prepare, and the perfect meal, the opportunity will pass you by!
Don't miss the blessing of the Priscilla-life. You never know when a Paul or Apollos may visit you and your husband in your home!
Action Points:
Think how you could use your home more effectively to serve the Lord.
Ask yourself if you are making spiritual contributions to the lives of others through hospitality.
Strive to be a team in your marriage as you invite others into your home to hear the Gospel.
This chapter was written by Denise Cunninham, wife of Pastor Dale Cunningham, Boones Creek Bible Church, Johnson City, TN. You can read Denise's blog at https://refreshher.com/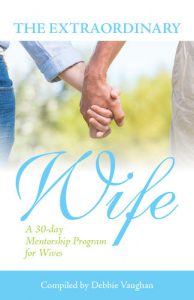 This chapter was taken from The Extraordinary Wife. CLICK HERE to learn more about the book.