"What therefore God hath joined together, let not man put asunder." (Matt. 19:6)
One of the great tragedies of the 21st century is that we live in a day of throw-away marriage licenses, recycled wedding vows, and disposable marriages. So many couples left the altar determined to "live happily ever after" only to end up in a lawyer's office or a courtroom signing papers. The fragile makeup of marriage in our generation has led to instability in one of the major building blocks in the foundation of our society.
On the day of your wedding, you recited your vows with a clear understanding of the fact that God's plan is simply "one man and one woman for one lifetime." You recognized the "leave…cleave…weave" principle of Gen. 2:24 and were good with it. Your intentions were good, and you never dreamed that you could experience the nightmare of separation or even divorce. As you completed the recitation of your vows, you stated with confidence and assurance, "till death do us part." These five words seemed to seal the deal as the preacher pronounced you husband and wife and you strolled down the aisle to begin celebrating.
It is almost hard to imagine that five words could be so significant, but in the case of marriage they are. They are because they represent a genuine commitment made, not just before God and the witnesses who were present, but to the one you now call your wife. These words become the basis for security and stability that are so vital to your relationship. Your wife needs to know that you are "in" for life, and that there is no back door option for you to use if she fails to meet your expectations or you find someone else who you like better. Vows are meant to be permanent—and you made one, so be true to it.
Years ago my father met an elderly couple who were both in their nineties. Having been married at 16 and 18 years of age, they had had been married for 76 years. Needless to say my Dad was rather fascinated by this amazing couple and so he asked them, "How did you do it?" Their answer was so simple and yet so profound as they stated, "We made a commitment." I am certain that those 76 years had been filled with every extreme of "better and worse, richer and poorer, sickness and health," but they were still together and would be till their death.
The best thing you could do for your marriage today is remind your wife that you still remember those five simple words, "till death do us part". Remind her that you have no intention of breaking the vow that you made to her on your wedding day. In so doing, you will solidify your commitment to her and will create the security for both of you that will make your marriage last.
Action Point:
In your own handwriting, express these words to your wife in a note:
On our wedding day—I did mean what I said. Today—I do mean what I say. Forever—I have made a life-long commitment to you and will be with you "till death do us part."
The impact will be immeasurable.
This chapter was written by Evangelist Tom Palmer.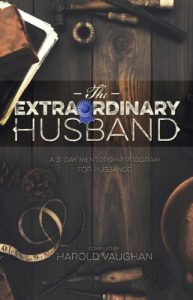 This chapter is taken from "The Extraordinary Husband". For more information on the book CLICK HERE.