Let all bitterness, and wrath, and anger, and clamour, and evil speaking, be put away from you, with all malice: . . . forgiving one another, even as God for Christ's sake hath forgiven you. Ephesians 4:31–32
C. S. Lewis wrote that "forgiveness is a lovely idea, until you have something to forgive." Yet forgiveness is so fundamental that close personal relationships are impossible without it. This is especially true in the family unit.
Forgiving someone who has wronged us can be difficult. But the only thing more costly than forgiveness is un-forgiveness. Failing to forgive will cost us more than we want to pay. It grieves the Spirit of God and contaminates our home environments with division. Un-forgiveness destroys communication, which leads to relational breakdown.
Un-forgiveness also leads to bitterness, which in turn poisons our own souls as well as those of the people around us. Hebrews 12:15 warns about a "root of bitterness" springing up and defiling others. Bitterness is like cancer. It spreads and destroys. Bitterness multiplies the bad and kills the good. Bitterness will not harm the object it is directed at, but it will destroy the container it is stored in. God did not design our bodies and souls to be containers for bitterness. It may cost us a lot to put things right, but it will cost us a lot more to leave them wrong!
Bitterness is swallowing a toxin and expecting it to hurt the other person. It's like shooting ourselves with a shotgun and hoping that the recoil will hit the other party. In other words, bitterness hurts us far more than it hurts others. Conversely, when we choose to forgive, two prisoners are set free: us and our offenders!
Why do families get out of sorts with one another?
Words—things that are said
Actions—things that are done
Decisions—choices that are made
Disagreements—opinions that differ
Failures—mistakes and sins that are not forgiven
We are not called to forgive our family members because they are right. Rather, we must choose to forgive them because we want to be right! Nobody wins with un-forgiveness—everybody loses. Happy homes are built on the foundation of forgiveness.
The only way we can forgive others is by first experiencing God's forgiveness. A man approached me after a church service on the subject of forgiveness and said, "I just can't forgive my wife for what she did." Immediately I thought, "Can't forgive" and "won't forgive" are two totally different issues. People who have experienced God's forgiveness have the capacity to forgive others. No, it is not easy, but when we have been shown grace by God, we have the power to extend that same grace to our offenders.
Jesus taught His disciples to pray, "Forgive us our debts, as we forgive our debtors" (Matt. 6:12). He went on to say, "For if ye forgive men their trespasses, your heavenly Father will also forgive you: but if ye forgive not men their trespasses, neither will your Father forgive your trespasses" (Matt. 6:14–15). Forgiven people have the capacity to forgive. Those who cannot forgive—who lack this capacity—may be strangers to saving grace.
Sin caused a breach. Adam's transgression alienated man from God's presence and fellowship. Jesus healed the breach by taking our sins upon Himself on the cross. "He hath made him to be sin for us, who knew no sin; that we might be made the righteousness of God in him" (2 Cor. 5:21). Those who place their faith in Christ's sacrifice are forgiven, for in Jesus "we have redemption through his blood, the forgiveness of sins" (Eph. 1:7).
Forgiveness is not something we earn. It's a free gift we accept by believing that Christ shed His blood for us. We don't achieve forgiveness by doing something or doing better. We accept God's forgiveness by believing that Jesus died in our stead. The word "gospel" means "good news." God loves us. Christ died for us. We can accept God's free pardon of sin at any time. If you have never believed on Jesus as your sin-bearer, then pray something like this: "Lord, I confess I am a sinner who has broken Your commands and laws. But I believe that Christ died for me. I believe He suffered in my place. Right now I receive Christ as my Savior. Thank You for dying in my place and forgiving my sins. Amen."
God's grace toward us empowers us to express grace to others. God's mercy enables us to show mercy to others. Forgiveness is extending the grace God has shown us and passing it on to the people who have wronged us.
Action Points
What are some ways in which God has forgiven you?
How can you extend this same grace to others?
How can you teach your family that it is God's grace that enables us to forgive others and then seek to live out this truth in your home?
This chapter was written by Evangelist Harold Vaughan.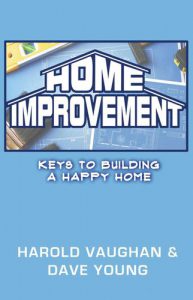 This chapter is taken from our book "Home Improvement- Keys To Building A Happy Home". CLICK HERE to learn more about this book and to place your order.