"In thee, O LORD, do I put my trust: let me never be put to confusion" (Ps. 71:1).
Escape Rooms have become very popular these days. These are rooms that a group of people go into and then have to figure out a way to escape. It takes a good deal of logic, following all of the right turns, and working together to get out. Then there is the fall favorite: a corn maze, where you must find your way through a labyrinth of paths carved in a cornfield. Both of these activities can be frustrating and confusing, but they are just games—something to do for fun.
What is not so much fun is facing hard choices and not knowing which way to turn. Should I do this? Or should I do that?
It's also very confusing to see our husbands go through situations where they must make difficult choices. We as wives want our husbands to make the right decisions. We don't want them to fail or choose a path that is not best. On the other hand, we do not want to tell them what to do either. I've known men who have made wrong choices all because they felt like their wives were telling them what to do, and they weren't going to be told what to do.
What is a wife to do in this situation? How can you encourage your husband to do the right thing without taking control of the situation?
I believe we see examples to follow in Scripture. The first one we can learn from is Queen Esther. The king had made an unwise decree without fulling realizing its consequences. As a result, Queen Esther and her people would be killed. Esther did not go to the King in tears and tell him what to do. Her first step was to fast and pray. How much better it is for us as wives, instead of rushing into a situation and giving our opinion, to go quietly before the Lord and lay our petition out before Him. God knows the best path. He knows the right choice to be made. Go to God and seek His face. Ask Him to reveal to your husband the right direction to go, to open all the right doors, and to close all the wrong ones. Spend time praying and seeking God's face. Ask Him to give you a peace about when to approach your husband and the ability to keep quiet until He gives you freedom to speak.
When God gives you that peace, then go to your husband. Esther didn't madly dash into the king's presence but requested Him to attend a banquet where she could have His full attention. After the second dinner party, she tells of Haman's plot, but she does not offer advice. It is a few days later that she asks the king to put an end to the plot of Haman.
Another example in Scripture is Abigail and David—although at their first encounter they were not married, Abigail still influenced David to do right. She came and presented the problem to David and told him that he would be king and encouraged him not to do something now that would mar his reputation later. David's answer, "Blessed be the LORD God of Israel, which sent thee this day to meet me: and blessed be thy advice" (1 Sam. 25:32–33).
Both Esther and Abigail presented the problem and offered advice, but the final choice was left to the men.
I think we can see from these examples that when decisions need to be made we as wives should first go to the Lord in prayer and seek His guidance and direction. Secondly, we should go to our husbands in a calm way and give our thoughts on the matter, but we must do it in a way that is loving and not demanding. Always end your appeal with assurance to your husband that you are behind him and that you are praying for God to give him wisdom and remove any confusion.
Pray, and then believe God to direct your husband in the right direction.
Action Points:
Always encourage your husband to do the right thing—and honor and support him in the decisions he makes, even if you don't agree with them.
Pray and trust God to lead your husband to make the right decisions.
This chapter was written by Debbie Vaughan, wife of Evangelist Harold Vaughan.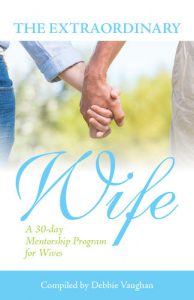 This chapter was taken from The Extraordinary Wife. CLICK HERE to learn more about the book.