Before marriage, opposites attract. After marriage, opposites irritate.
One of the keys to establishing a tranquil atmosphere in your home is understanding your mate. "Husbands, dwell with them (wives) according to knowledge" (1 Pet. 3:7). To "dwell" or reside in peace requires a basic comprehension of your wife (according to knowledge).
One man said, "All marriages are made in heaven, but un-fortunately we have to live them out on earth." But understanding your mate and adjusting accordingly can make your home like heaven on earth. Your wife carries a host of invisible and often unspoken concerns, fears, painful memories, and unrealized expectations. A pleasant home is not an accident. It is the consequence of thinking correctly about your spouse.
A Wise Husband Understands His Wife
She is Wired Different.
Her constitution is unique from yours. In fact, every one of us is unique. We are "fearfully and wonderfully made" by God to be unique despite the common gender generalizations we often hear. Her brain functions unlike yours. This is not bad, but you must understand something of these distinctions in order to dwell with her according to knowledge. So, ask her to help you understand what she's thinking as specific circumstances arise. As you begin to understand her, you will stop attempting to change her. Allow God to change your attitude as well as your understanding of your mate. Over time, she will probably reciprocate and gain a better understanding of how you think.
A common mistake often made by all of us is to wrongly assume the other person's heart motive behind what they do or say. Unfortunately, our sinful nature tends to choose to believe the bad motives rather than the good ones. Then, our behavior towards the other person changes in light of the bad heart motive we have projected upon them. It will clear up many misunderstandings and hard feelings if we each learn to communicate to others the motive behind what we say and do. Then, live out the Christ-like, loving, and grace-filled motives that the Holy Spirit places in your own heart.
She Responds Different.
Before you got married, you courted your wife. You were on your best behavior. You opened the door. You held her hand. You communicated with her frequently. All this allowed her to open her heart to you. Start doing some of the things you did before you said, "I do."
Men and women are DIFFERENT. Men are aroused by sight, but women are aroused by touch. Love-making requires no forethought for men, but women are all about the "package deal." You need to emotionally woo your wife before she can respond to your physical advances. Understanding this "difference" will make all the difference.
Appreciate the Difference.
Your attitude and actions in the home are very important. Accept her as she is and let your "love" be a catalyst which produces a sanctifying work in both your hearts.
A Very Helpful Resource:
This chapter was written by Harold Vaughan.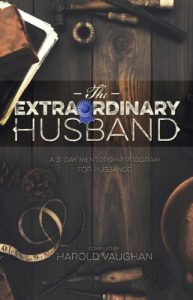 This chapter was taken from The Extraordinary Husband. CLICK HERE to learn more about the book and to place your order.