"Thou hast left thy first love. Remember therefore from whence thou art fallen, and repent, and do the first works" (Rev. 2:4–5).
Ephesians 5 tells us that our marriage is a picture of the relationship between Christ and the Church. In both cases we can become cold and calloused toward the one that we once loved and cherished. One of the major warning signs in a relationship is when we don't spend any time together. Our relationship with Jesus will not be healthy and thriving if we don't spend any time with Him. What makes us think our relationship with our husband could withstand daily routines without any meaningful time spent together?
Jesus told His church at Ephesus to do three things to remedy their relationship with Him:
Remember. Do you remember the early days of marriage or the time leading up to marriage? One of the biggest things that sticks out to me is not the dates themselves but the enormous amount of time we spent together. We never wanted to be apart! It really didn't matter what we were doing, as long as we were together. At that point we couldn't afford very much. We didn't go to many fancy places. It was just simply planning the time to be with one another. As I look back now I long for those times. At our current season in life, we are competing with our three children, a church plant, and family transitions. However, the day will come when this season changes into another. Then it will be something else that competes for our time. Do you remember?
Repent. Repenting carries a few definitions with it. It means a changed mind but also can be defined as turning from or to something. You could say it is a change of mind that leads to a change in action. I have counseled many ladies who knew their marriages were going the wrong way. They would even say that something had to change. However, if this doesn't produce action, nothing will change. What do you need to change in your relationship to get it to the place God desires it to be?
Return. Jesus told them to do the first works. One of the greatest tragedies in the marriage relationship is the lack of time we spend together. We may be in the same place at the same time, but we are not together. It's not about what we are doing, but rather if we are connecting together in the process. Would you return to spending quality time with your husband?
To help, I asked several ladies to give me some date ideas that they enjoy with their husbands. Here are a few of their ideas combined with some of my own as well:
Recreate a special memory or your first date.
Have a picnic in the park.
Go for a hike.
Take a drive down an unfamiliar road.
Go to antique stores, thrift shops, or yard sales.
Attend a local sporting event.
Read a book together.
Cook dinner together, and try a new recipe.
Make a CD for your husband with the love songs that make you think of him. Let this CD be something special for when you are together.
Work a puzzle together.
Go through old photos and reminisce about the old days.
Put the kids to bed early, pop some popcorn, and watch a movie.
Come up with a bucket list to check off with each other.
Attend a Couples' Retreat or Prayer Advance.
Take a romantic bubble bath together.
Give each other a massage.
Read Song of Solomon together.
Action Points:
Read Ephesians 5:21–33.
Put into practice the list above.
Have fun!
This chapter was written by Hollie Vaughn, wife of Pastor Dan Vaughn, Hope's Point Baptist Church, Weston, WV.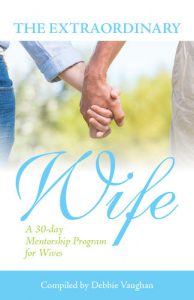 This chapter was taken from The Extraordinary Wife. CLICK HERE to learn more about the book.