"I will set no wicked thing before my eyes." (Ps. 101:3)
You are the gatekeeper of your soul. You must carefully guard the information and images that enter your mind through your eyes and ears. The Psalmist made a deliberate choice not to LOOK upon evil—"I will set no wicked thing before my eyes."
The flow of content into your mind determines your future. The mental photograph that dominates your mind is like a blueprint. What you SEE determines what you PURSUE. You will move toward the picture in your mind. What you focus on most will become strong in your life.
What you see in your heart spawns corresponding actions. "Mine eye affecteth mine heart" (Lam. 3:51). When you view pornography, this triggers desires. These images create urges that crave fulfillment. Lust is HIGHLY addictive. A sensual focus will absorb all your energies. A polluted heart kills divine input. It only takes one image to set you on the course toward catastrophe. Never forget that David, a man after the heart of God, LOOKED on Bathsheba bathing, LUSTED, then sent for and LAY with her.
The repercussions of David's sin should strike a note of holy terror in our hearts. Obsession with deliberate sin is spiritual suicide!
"And if thine eye offend thee, pluck it out, and cast it from thee" (Matt. 18:9). You must get brutal with yourself to overcome sin. Don't worry about someone calling you legalistic—you must take responsibility for your personal holiness. That means you may have to take extreme measures to purify your heart. "Let us cleanse ourselves from all filthiness of flesh and spirit, perfecting holiness in the fear of God" (2 Cor. 7:1). God will not sanctify you apart from your consent and cooperation. Of course, it is God's indwelling presence and power that gives victory, but it is our responsibility to "cleanse ourselves." You MUST cooperate with God in your sanctification. Drastic action is REQUIRED!
Practical Safeguards
REPENT. Change your mind and your actions. In this generation of "weak men", God must be stirring your heart or you would not be reading a book like this! Get thoroughly disgusted with your participation in unholy attitudes and behaviors. Cry out to your Father for HELP in times of need.
FEED on the Word of God. Contemplate, memorize, and study your Bible. Listen to messages instead of surfing the net and watching television.
OBEY every prompting of God. Get rid of cable television if you can't handle it. Put a filter on the internet. Do what you need to do in "making no provision for the flesh" to fulfill its lust.
FIND a spiritually mature, accountability partner with whom you can bear your soul. You need someone to CONFIDE in, CONFESS to, and draw COUNSEL from.
ARM yourself with the arsenal of weapons found in Eph. 6:10-18. Commit 2 Cor. 10:3-5 to memory.
STOP reading after imbalanced authors who discourage faith. Don't overdose on the High Church-types who have a "weak view of sanctification." When a man writes words like, "You don't have a pure heart. No man will ever have a pure heart. You will never have a pure heart." Throw that book of unbelief in the trash can! Listen CAREFULLY—God was not mocking us when he commanded us to be holy. He supplies GRACE to empower His saints to live triumphantly—"But thanks be to God, which giveth us the victory through our Lord Jesus Christ" (1Cor. 15:57). Read and absorb truth that empowers faith instead of obsessing on what the unbelieving, introspective nay-sayers are telling you.
Helps to Holiness:
Read these books: "LORD, Help Me Not to Have Evil Thoughts" and Overcoming Bad Habits by Harold Vaughan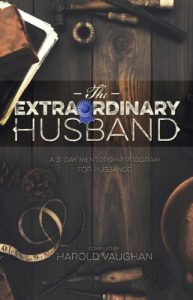 Taken from "The Extraordinary Husband". CLICK HERE for more information.