"Unto him that is able to do exceedingly abundantly above anything we could ask or think, according to the power that worketh in us, unto him be glory in the church by Christ Jesus." Ephesians 3:20–21
Ephesians 3:20 sounds amazing, doesn't it? God has boundless resources. Our minds cannot even conceive His potential. This verse should raise the level of the possible in our thinking when it comes to our families. It should challenge us to rise above our history and dare to defy the mediocrity that surrounds us.
God is able. God's ability cannot be measured by the scale of possible: "With God nothing shall be impossible" (Luke 1:37). The possibilities of grace know no threshold—the sky is not even the limit!
Blessed is the home that dares to believe God. Blessed are the children whose parents pray and believe for the miraculous. Our children need to witness the supernatural in our families; divine interventions, amazing deliverances, inexplicable provision, and unmistakable answers to prayer should be formative in their spiritual development. We need the observable manifestation of God's power to make our belief system come alive. In order for God to become real to our children, they must sense that God is real to us as parents.
My family traveled together and ministered in churches all across the nation. When we or our ministry needed something, we prayed in faith together. Provision regarding mission trips, vehicles, RVs, physical things, and even some of our wants were sought by prayer. Every time God answered, we were quick to give Him thanks. We should select faith projects that our families can pray and believe for. Think of things that your family stands in need of presently. Pray together daily, and believe big. God is able.
God has an abundant supply. The idea expressed by "exceedingly abundantly" in Ephesians 3:20 means beyond measure, excessively superior, and superabundant. God has revealed Himself through His names. One of the compound Jehovah names is Jehovah Jireh, which means "the Lord who sees before." When Abraham and Isaac were climbing Mount Moriah, Isaac said to his father, "We've got the wood and the fire, but where's the lamb?" Abraham responded, "Jehovah Jireh," meaning that God would supply Himself a lamb. About the time Abraham was going to plunge a knife into his son's chest, a trapped ram bleated from the thicket. God had seen the need beforehand and supplied the sacrifice.
In God's economy, the supply always precedes the need. God created air before there was a man to breathe it. The Lord created water before there was a fish to swim in it. As in creation, so it is in practical life. God sees the need before we even realize it exists and provides the supply ahead of time. No, the Lord does not conjure up the resources on demand. He sees beforehand and supplies all our need according to His riches in glory (see Phil. 4:19).
Ole Hallesby said, "Prayer is telling God what you lack. Intercession is telling God what others lack." At the wedding feast in Cana, the host family encountered a problem—they ran out of wine. The mother of Jesus was privy to this embarrassing situation. She went to Him and stated the problem: "They have no wine" (John 2:3). She had never seen water turned into wine. She offered Him no advice to remedy the problem. She just told him about the problem and left it in His hands. She interceded—told Jesus what was lacking. Christ miraculously turned the water into wine.
God's power is above our highest thoughts. His capacity knows no limits. It is unimaginable. He can do far more abundantly than we ever dreamed. We must challenge the possibilities of grace by praying big prayers in our homes. We must pray the prayer of faith, not the prayer of doubt. It has been said that faith honors God, and God honors faith.
Through His divine power He has given us everything that pertains to life and godliness (see 2 Pet. 1:3). God's greatest pleasure is to be believed, and His greatest grief is to be doubted. We must come to Him in childlike, yet bold, faith and believe Him to do exceedingly abundantly beyond all we could ask or think in our families.
Action Points
Pinpoint the major needs in your family: physical, spiritual, emotional, relational, financial, etc.
Read Ephesians 3:20 out loud: He "is able to do exceedingly abundantly above all that we ask or think."
Pray over your needs, and dare to believe God to work powerfully!
This chapter was written by Harold Vaughan.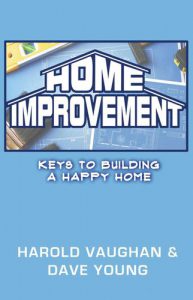 This chapter is taken from our book "Home Improvement- Keys To Building A Happy Home". Click on the link to learn more about this book.