Keep thy heart with all diligence; for out of it are the issues of life. — Proverbs 4:23
Many verses in Scripture are helpful and instructive for mothers who desire to create a happy and pleasant atmosphere in their homes. Certainly Galatians 5:22–23, listing the fruit of the Spirit, is a passage that indicates the love, joy, and peace that should be present in our lives as Christians. I believe, however, that the spiritual condition of a mother's heart is the key to developing the desired atmosphere in the home.
I've heard it said many times that the father is the head of the home but the mother is the heart of the home. God in His infinite wisdom created a woman with certain abilities, sensibilities, and emotions to fulfill this very special role in a family. Thus, if she is to be the heart of the home, then her heart is of utmost importance. Proverbs 4:23 speaks to the seriousness of tending one's heart, since that is the place from which our affections, emotions, and actions emanate—that is, "the issues of life."
A mother's relationship with her heavenly Father must be cultivated and cared for in order for her to have godly family relationships. Since God is the source of love, grace, wisdom, joy—in fact, all things good—then it is critical that Mom have a close relationship with Him that He might strengthen and empower her to display these characteristics in her home. When a mother's heart is in tune with God, out of it will come the things that make for a happy, pleasant atmosphere.
Over the years I have learned how important it is to express love, encouragement, and affirmation to my daughter as well as to other members of our household. It is not possible for me to be consistent in this if my heart is not guarded, tended, and maintained with all diligence.
Though I no longer have small children at home, over the last nine months I have experienced the unplanned situation of having my daughter, son-in-law, and fifteen-year-old twin grandsons living in our home. They have been going through a great upheaval in their lives and some difficult circumstances. I have learned anew how vital my attitude is in creating a pleasant atmosphere. Combining two households isn't easy and has often brought me to the point of deciding which is more important: things or people. I must keep my emotions and words in check, seeking the help of the Holy Spirit for control. Out of my heart must flow the desire to love and care for my family, or the devil will have multiple opportunities to attack and destroy us. My goal is to communicate that love and care by giving more of myself in order to keep our home a place where everyone knows that they are loved and wanted.
This is not an easy task, whether for a young mom with small children or an older mother with grown children and grandchildren in the home, but I know with certainty that the Author of all that is good and pleasant is the One who will be our help!
If we can apply these principles, seasoned with the right amount of humor to lighten things up when the going gets rough, we will be successful in creating an atmosphere that is enjoyable for our families. Don't be afraid to be silly sometimes, laugh at yourself, or make light of small mishaps or mistakes committed by your children. The Lord blesses us with our children, and we have a one-time opportunity to enjoy their childhood. Be an extraordinary mother who tends to your own heart so that out of it might flow the joy of the Lord, making your home a place where love lives!
Action Points
What kind of atmosphere exists in your home? How do your thoughts and emotions affect your husband and children in your day-to-day interactions?
How is your heart? Is it in tune with God, or have the pressures of life negatively affected your thoughts and emotions? What are some habits you would like to change?
Think of one or two godly qualities that you would like to grow in. Ask the Lord today to increase those in you and give you a heart overflowing with His joy!
This chapter was written by Pam Leake.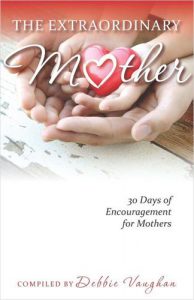 The chapter is taken from The Extraordinary Mother. CLICK HERE to learn more about the book.