Everyone with one of his hands wrought in the work, and with the other hand held a weapon. — Nehemiah 4:17
The weapons of our warfare are not carnal, but mighty through God to the pulling down of strong holds. — 2 Corinthians 10:4
As a mother of eleven, I'll admit that motherhood can sometimes feel like a war. While I say that jokingly, there is without a doubt much that we need to contend for in our families. The souls of our children are treasures to be guarded with the fierceness of a warrior. That being said, I have never really thought of myself as a "prayer warrior." This term, although used often, is not found in Scripture. I have wondered at times if it is actually helpful, as it can exalt some people and make others feel inadequate.
We can become discouraged as moms who are trying to balance many things when we believe that the only way to pray effectively is to follow one of the many plans found on Google outlining "steps to becoming a prayer warrior." These methods can feel overwhelming when we try to add them to an already demanding schedule. I have sometimes tried to follow such a plan, with little success. While my desire was good, the method did not fit the life I have been given.
I do not mean to condone laziness in prayer. Also, God may lead us into special seasons of prayer when we have a heavy burden. But the bottom line is this: prayer is talking to God. He is with us in our daily tasks and in times of rest as much as He is with us when we sit down to a devotional time. Nothing can separate us from His love, and He cares about everything. From the smallest detail (a misplaced shoe) to the greatest burden (a son's decisions about his future), nothing is too big or too small for God.
If I am walking with God and living a life for His glory, He is present with us at all times. The best time to lift a prayer to Him is the moment it comes to mind. When the worries start to swirl and the questions arise, that is when I lift my heart to the Lord, whether I'm driving in the car, folding laundry, or doing dishes. This practice not only reminds me to pray more for certain things but also helps me avert a worried state of mind.
I do spend time talking with God in the morning, daily, and I find Him near and ready to help. I encourage you to do the same. But often my devotional time is cut short by the needs of my family due to my current season of life. I can allow this to become a source of discouragement, or I can just take my prayers with me as I go. I am encouraged greatly by the idea of the men in Nehemiah, who built the wall with a tool in one hand and a weapon in the other. It is an accurate picture of what a "prayer warrior mother" looks like.
Our prayer-hearing God is ever present. He has given us mighty tools of faith and prayer that we can carry with us everywhere we go. Father, let us as mothers find You as You are—near and ready to hear.
Action Points
Do you ever feel inadequate regarding your prayer life? It's true that we need to pray, but God doesn't want us living under condemnation. Read and ponder Romans 8:1: "There is therefore now no condemnation to them which are in Christ Jesus, who walk not after the flesh, but after the Spirit."
How often do you talk to God during your day? Stop right now and ask the Lord to help you take every worry and concern to Him the moment it comes to your mind, knowing that He is with you.
First Thessalonians 5:17 says to "pray without ceasing." How can you apply this to your life as a busy mom with many demands on your time?
This chapter was written by Abigail Miller.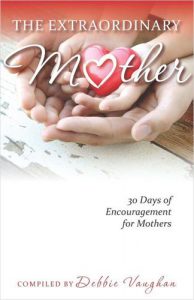 Taken from The Extraordinary Mother. CLICK HERE for more information about this book.