"But thou, O LORD, art a shield for me; my glory, and the lifter up of mine head" (Ps. 3:3).
Everyone experiences discouragement. But what do we do when we are so discouraged that we find it hard to be the helper that our husbands need?
My husband has an autoimmune disease that requires an infusion I administer to him once a week. His disease leaves him extremely fatigued. Oftentimes, all he can do is prepare his sermons and sleep. Therefore, I have responsibilities that many wives never have to face. I know there are others that face this—military wives or those whose husbands work different shifts or often travel. Sometimes those extra responsibilities leave me discouraged.
No one likes to be discouraged. We would all love to live our days happy and carefree, but that is not necessarily the way life happens, is it? So when discouragement comes, we need to learn how to function during that time.
Sometimes all I can do is the urgent. When I'm overwhelmed, I try to line my problems up in a straight line and tackle them one at a time. Sometimes that isn't possible.
When my children were toddlers, I remember long days of making lunches, wiping up spills, and cleaning up toys all day long. I would collapse in bed every night only to get up the next day and do it all over again. Now that my children are grown, I realize that those days were easier than I thought. I never dreamed of the day my husband would be so sick that I would carry some of the responsibilities that I do now.
Satan knows how to push our buttons. He watches you and knows the areas in your life that tend to get you down. If he can't have your soul, he wants to keep you down so that you lose your effectiveness.
Another area that gets us depressed is comparing our lives with others. We don't know what goes on behind closed doors; no one has a perfect life. We have to make the best of our responsibilities and be thankful.
We need to learn to encourage ourselves. Remember that strength comes from the Lord. David had to do this—"And David was greatly distressed . . . but David encouraged himself in the LORD his God." (1 Sam. 30:6)
Something that pulls me out of a moment of self-pity is to think of others in situations much worse than my own. I'm not trying to minimize what you are dealing with; the struggles we face are our struggles and very real to each of us. Pity makes us blind to our blessings.
Another way to overcome discouragement is to do something for someone else. Who better to do something for than our husbands! Oftentimes when I'm discouraged, when I start serving Rick or someone else, I start to pull out of my sadness. Even in despair, we need to continue to do what's right. Sometimes we need to just start doing, and the feeling will come afterwards.
David had many times of despair in his life. As I read the Psalms and know that David cried out to God with all of his heart, sharing all his grief, it lets me know that God wants me to bring my struggles to Him. Knowing that He cares about every detail of my life brings me peace and comfort. Knowing that He has a plan promotes contentment.
Sometimes my burden is so strong, I can't even express to the Lord in words what I'm feeling. In those moments, I'm thankful for the truth in Romans 8:26, which tells us that even when I don't know what to pray, "the Spirit intercedes for us with groanings that cannot be uttered."
Keeping a "blessing journal" and reviewing it regularly will keep you focused on ways that God has come through for you in the past. He is faithful and good.
Dear lady, discouragement is a very real battle. I would never begin to pretend that I know and understand how you must feel. But I do know this: when I lean on the Lord, I find that His arm is very strong and that He is always there.
When I view God through my burden, I get discouraged; but when I view my burden through God, I receive encouragement. The key is to gaze at God and glance at my trouble.
To gaze at my trouble and glance at God will not bring comfort. He is the God of all encouragement (2 Cor. 1:3).
Action Points:
Challenge yourself to thank God for His blessings each time you find yourself comparing your life to others.
If you don't already, start keeping a "blessing journal" and review it regularly.
Think of one way that you can do something special for your husband and seek to put it into action today.
This chapter was writen by Paula Johnson, wife of Pastor Rick Johnson.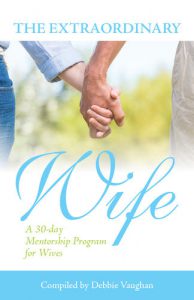 The chapter was taken from The Extraordinary Wife