"He brought me up also out of an horrible pit, out of the miry clay, and set my feet upon a rock, and established my goings" (Ps. 40:2).
It is a very rare Christian wife who does not experience an occasional "case of the blues." Discouragement hits just about everyone at some point in life, and Christian wives are no exception. It can come on gradually or seem to "hit from out of nowhere," but the effects are often the same: low emotional stamina and even reduced energy.
Discouragement is often a result of realizing we don't have the needed resources to meet a need or life circumstance. It can be a physical, financial, or relational need, but realizing "we don't have what it takes" is very discouraging. If we continue to focus on our lack of resources or the problem we are facing, discouragement can take us down even further into depression.
However, there is a better way; it's the grace of God. When God allows discouraging circumstances into our lives, it is for the very purpose of driving us to Him. God tells us in 2 Corinthians 12:9 that His grace is sufficient for us and His strength is made perfect in weakness. When we turn our need or situation over to God, He promises to supply all our need, and He never runs out of resources. As we focus on the provision of God, discouragement turns to encouragement and the "blues" will lose their hold upon us.
God will always do His part, but we need to make sure we are doing ours. Firstly, God says to pray about everything. God also tells us to trust in Him and not to lean on our own understanding. After we have done these two things, we should make sure we are following the commands and wisdom that God has put in His Word for our good. Proverbs is filled with wisdom about managing money and physical resources. It also gives a wealth of advice on handling human relationships. If we have created a lack of resources by our own foolish spending or making so many commitments that we don't have time to fulfill them, God isn't going to "rescue" us out of our foolish choices. Instead, He will walk with us through our less-than-desirable circumstances as we begin to make choices that are in line with His commands. He will give us the power of the Holy Spirit to do what is right.
Perhaps your discouragement is a result of all the "clutter" in your home and mind. "Too much stuff" in your physical environments can be a stressor. Getting material possessions under control may be a huge step on the path to encouragement. Mental clutter also takes its toll on us and comes in many forms including anger, bitterness, worry, and self-pity. Confessing and forsaking these sinful thought patterns will definitely lighten our mental load and clear the way for God's grace to fill our hearts and minds.
All that said, because we live in a sin-cursed world, there will be times when we are doing all the right things and we don't have any overwhelming circumstances, yet we still feel discouraged. A lack of sunlight for several days in a row (which happens often in the Midwest) or a big life change (even the good ones like a new baby or home) or of course those crazy hormones can all bring on a case of "the blues." But if we keep our focus upon our God, His grace, and our daily blessings, those feelings will be short-lived. Satan would love to convince us we are alone in our feelings and things will never get better, but that is a complete lie. Don't give into the lie of the Devil or your own lying emotions. Dwell on God's goodness and His unchanging love for you, "and the blues too shall come to pass."
Action Points:
Are you facing a discouraging set of circumstances right now? Spend focused time today in prayer and seek to apply the Word to your situation.
Take a look around at your physical environment. If there are things that are acting as stressors in your life, take time today to declutter and simplify your life.
Written by Lynn Hassel, wife of Pastor Bob Hassel.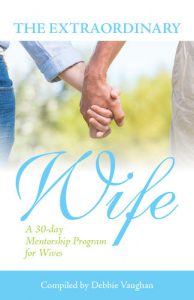 Taken from The Extraordinary Wife. CLICK HERE to learn more about the book.