Some years back, my wife and I attended a "Family Conference." Upon arrival, the attendees were given a questionnaire. One of the questions was,
"How would describe your home:
Very Happy
Happy
Not so Happy
Miserable"
Each attendee filled out the questionnaire and handed it in. One evening the speaker announced the children's responses to this question. Of the 200 or so children present, only two described their homes as "Very Happy." I was staggered and extremely bothered by this unexpected response. Immediately my mind focused on how my own children might answer that question. I could hardly rest until I returned home and cornered my children asking each of them how they might describe our home.
When you walk into some homes, you sense tension. In other homes, you sense joy and peace. Every home has an environment. Every individual carries their own personal atmosphere with them. The human spirit is contagious. You can "infect" your home with negativity, or you can "affect" your home with pleasantness. Every emotion has a birthplace because your thoughts carry tremendous weight. There are things you can do and say to "brighten the corner where you are (live)."
4 Ways to Saturate Your Home with Joy
Reconcile Problems Quickly. Small things can quickly turn into big problems. Jesus counseled, "Agree with your adversary quickly" (Mat. 5:24). When things go wrong, put them right immediately. Disagreements do not solve themselves. Peacemakers are needed to restore tranquility when things take a wrong turn in your marriage.
Refuse to fret, fume, and fuss over situations. Take the low road. Humble yourself. Go to your spouse and utilize those ten words for revival in the home:
I was wrong…
I am sorry…
Will you forgive me?
When two people live together, issues will arise. A Spirit-filled man will hasten to "make peace" quickly.
Look for Solutions Instead of Problems. Some men are good at detecting difficulties. A few are really good at identifying solutions. But real success in life comes to those who can recognize opportunities. There is no question that some were reared in negative environments. But that is no excuse not to access the grace of God. We must rebuild our minds and the dominant thought patterns we practice. Don't focus on the negative traits of your wife. Refuse to obsess on her faults and failures. Don't deceive yourself into thinking that you are a "realist" if you are not thinking biblically. Make Philippians 4:8 your daily project:
"Finally, brethren, whatsoever things are true, whatsoever things are honest, whatsoever things are just, whatsoever things are pure, whatsoever things are lovely, whatsoever things are of good report; if there be any virtue, and if there be any praise, think on these things."
Compliment the Favorable Qualities of Your Wife. God Himself loves to be praised. He inhabits praise. "But thou art holy, O thou that inhabitest the praises of Israel" (Ps. 22:3). God dwells, or resides, in the midst of praise. He makes Himself known as His people praise and worship Him. Verbally and tangibly express your appreciation for your wife. One of the greatest motivators is praise.
Purpose to Speak Life-giving Words
Jesus gave disciples power to…
Heal the Sick . . .
Raise the Dead and . . .
Cast out the Devil.
A young preacher got excited and worked up. He was so mixed up that he said…
"We've got power to Heal the Dead . . .
Cast out the Sick . . .
And Raise the Devil!"
The misuse of words is one of our greatest problems. But God's Word says a lot about our words. Think deeply into this verse,
"Death and life are in the power of the tongue: and they that love it shall eat the fruit thereof" (Prov. 18:21).
You can speak life-giving words into the lives of your family. Your words can "build up" or "tear down." Words are powerful. The purpose of words is to encourage others.
This chapter was written by Harold Vaughan.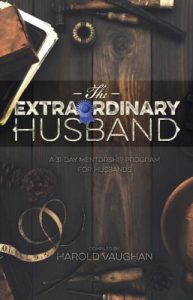 The chapter was taken from "The Extraordinary Husband".