"Cause me to hear thy lovingkindness in the morning; for in thee do I trust: cause me to know the way wherein I should walk; for I lift my up my soul unto thee" (Ps. 143:8).
One of the last things on my mind on the day I got married was that there would be a time when my husband would go through severe grief.
Our wedding vows stated that I would love him in sickness and in health, but never did it say in grief, depression, and spiritual warfare. I knew there would be good and bad days in the "better or worse" part of my commitment, but I never thought I would walk down a dark road with him in which I couldn't seem to help him, no matter what I did or said. Quite a few years after my husband and I got married, he went through a dark and spiritually oppressing period of doubt. My husband is a pastor, and pastors just can't doubt—can they? It was like our life hit the pause button, and a cloud of haze fell over our home.
Day upon day would pass. I felt helpless. I had no idea how to help my husband through some of the worst grief I have seen. When God suddenly did not exist (in my husband's mind), there were no words to explain the grief of a person without hope. I thought I knew this person in and out, but now he was a different person with a different view of God. Praise the Lord even when we experience doubt. He is still on the throne and fully God. We don't have to live without hope! It was during those days that God gave me a passage that I clung to.
James 1:2–8 says, "My brethren, count it all joy when ye fall into divers temptations; knowing this, that the trying of your faith worketh patience. But let patience have her perfect work, that ye may be perfect and entire, wanting nothing. If any of you lack wisdom, let him ask of God, that giveth to all men liberally, and upbraideth not; and it shall be given him. But let him ask in faith, nothing wavering. For he that wavereth is like a wave of the sea driven and with the wind and tossed. For let not that man think that he shall receive any thing of the Lord. A double minded man is unstable in all his ways."
My husband desperately needed me to speak truth into his life during this time, but I felt so inadequate and lacked wisdom. I have never doubted the reality of God, so how could I help him? Ask for wisdom. Every morning I would wake up and count it joy for our trial and ask for wisdom for what I would encounter in our conversations that day. There would be times my husband would ask me to explain deep realities of God and words would pour out of my mouth that were only words of wisdom given to me by the Lord. So many times God would give me wisdom when I had none to give. These verses were made a reality in my life over and over.
The biggest things that I have learned helping my husband through grief are:
Be a stable supporter in his life. I wouldn't be able to help my husband out of the pit if I jumped in it with him.
Be his prayer warrior. Bathe your home inside and out with prayer. Pray for him in the specific areas he needs prayer and for God to use this trial greatly in his life.
Allow him to talk, and wait for him to respond to any questions. We often try to fill the empty space with words, but encourage your husband to talk. Be a good listener when he does speak.
Allow him space to work things out in his mind and heart with the Lord. While you are praying for your husband, give him space. Be careful not to be the Holy Spirit in his life by trying to figure out what God is up to through the process.
God is working all things out for His good and His glory. Too often we are in such a rush trying to find instant fixes for our problems. Grief comes in all shapes and sizes. Don't rush the process, but lovingly help your husband through his grief.
Action Points:
Remember that God is still on the throne even in the darkest of times, and He promises wisdom to those that ask. So, ask Him now for wisdom!
Don't rush God's work in the lives of others. Be still and know that He is God.
This chapter was written by Valerie Hopkins, wife of Pastor Mark Hopkins, Shenandoah Baptist Church.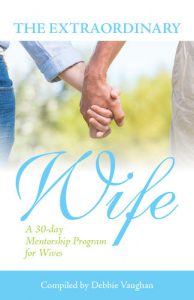 This chapter was taken from The Extraordinary Wife. CLICK HERE to learn more about the book.