"That they may teach the young women . . . to love their husbands" (Titus 2:4).
There are many great ways to serve your husband; and if we made a list of all the ways, I'm sure we could come up with an exhaustive list. We could all probably recite many Scriptures on marriage and the roles of the husband and wife, but many times we stop there. We know Ephesians 5 well: how the wife should submit to the husband and how the husband should love the wife. Many times we think that is the end-all. I'll just submit and I'm done.
"Finally, be ye all of one mind, having compassion one of another, love as brethren, be pitiful, be courteous: not rendering evil for evil, or railing for railing: but contrariwise blessing; knowing that ye are thereunto called, that ye should inherit a blessing. For he that will love life, and see good days, let him refrain his tongue from evil, and his lips that they speak no guile. Let him eschew evil, and do good; let him seek peace, and ensue it. For the eyes of the Lord are over the righteous, and his ears are open unto their prayers: but the face of the Lord is against them that do evil" (1 Pet. 3:8–12).
We may serve our husbands in wonderful ways, but are these the best ways? I heard a story of a man who brought home a bagel every day for his wife after he got off of work. It was the sweetest gesture, but she didn't have the heart to let him know that she didn't like bagels. He thought he was doing a great thing to show his wife love and serve her. When he retired he told his wife that he wouldn't stop at the bagel shop anymore to pick up bagels since he wouldn't be passing it on the way home. She replied sheepishly that it was okay, and she should have let him know sooner that bagels weren't her favorite. But she knew how much he loved them, so she didn't say anything.
We can serve and serve; but if it isn't the best way, we could be wasting a lot of time and energy on the wrong thing. Or sometimes we can serve our spouse the way we want to serve without thinking of how he may need to be served.
One of the best ways we can serve our husbands is to treat him as a fellow believer. We need to treat our husbands as a spouse, confidant, lover, leader, and friend. Sometimes our husbands need the very things that we so freely and willingly give to other believers, but not to him—things like tenderness, compassion, blessing, unity, encouragement, prayer, uplifting words, and kindness. Many times, we have a tone for church folk and another for those who live in our home. The people in our home don't want our leftovers. Am I giving my husband my leftover love, compassion, kindness, encouragement, and prayer? Or am I giving him my best?
How can I specifically serve my husband best?
Find out ways to specifically serve your husband that are unique to only him. I once heard someone say that many people can fulfil the role of a cook, taxi driver, housekeeper, encourager, nurse, and hairdresser; but there are only certain things a wife can fulfil for her husband (and I'm not just talking about sexual fulfillment). Be the wife that meets the needs that no one else can.
Spend personal quiet time with the Lord daily. The best way we can encourage those in our household is to first be encouraged by the Lord. Allow the Lord to fill up your cup so that you can be a blessing to those in and out of your home.
Live with no expectations in return. Serve with the mentality that there will be no reward here on earth. 1 Peter 3 says, "That ye should inherit a blessing." Inheritances usually come after a death. We may never see the fruits of our labors or the reward, but one day we will receive our inheritance. And it will be worth it all!
Action Points:
Seek to develop a spirit of compassion for others, especially your husband.
Evaluate the ways you currently serve your husband. Ask yourself, "Am I serving him in the best way?"
This chapter was written by Valerie Hopkins, wife of Pastor Mark Hopkins.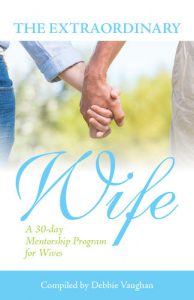 This chapter was taken from The Extraordinary Wife. CLICK HERE to learn more about the book.