"Keep the unity of the Spirit in the bond of peace." Ephesians 4:3
Our pasts are places of reference, not places of residence. Once we have made amends, righted wrongs, and learned lessons, it is time to move on. How do we reconcile with others in the here and now?
Make amends. If our homes are going to be happy places, we must have happy hearts. Paul worked hard at maintaining a clear conscience—one void of offense toward God and man (see Acts 24:16). An undefiled conscience has been defined as the ability to honestly say that there is no one on this earth whom we have wronged, hurt, or offended in any way and not attempted to make things right with. This may sound ominous, but it is doable.
The scope of a transgression will determine the scope of the confession. For personal sins, we should deal with God. If we are reminded of our sins after we have confessed them, it is not God convicting us; it is the devil condemning us. Our private sins require that we deal only with the affected individuals. But public sins require a public confession. We need to own up specifically, and only, to the offended party or parties. We should not advertise our failures any more broadly than our confession requires.
Utilize practical wisdom. Ben Franklin said, "Never ruin an apology with an excuse." We should never sidestep an issue by giving reasons for our wrong behavior. People who are serious about clearing themselves will not say to someone, "I am sorry you are offended." Another common mistake is using a cowardly smokescreen: "If I have done anything to offend you, please forgive me." The "ifs" never solve anything. If we did no wrong, we should keep quiet. If we did wrong, we should own up fully.
Ask for forgiveness. A major key in clearing our consciences is using precise language. We should not say "Sorry"; rather we should say, "I am sorry." Even more clearly, we should elaborate, "I am sorry for [name your offense]. Will you forgive me?" Then we have taken responsibility and plainly communicated our desire for forgiveness. This is all we can do. If the other person grants forgiveness, we can rejoice! If they refuse, we are still free, because we have done everything in our power to put the matter right.
If we want clear consciences, we must act in obedience, or we will walk in defeat. It is not God's will for us to be depressed, defeated, guilty, condemned, ashamed, or unworthy. We were saved to live victorious lives! Dealing with the past is a gateway to a bright tomorrow.
Deal with reoccurring bad memories. We cannot keep a thought from entering our minds, but we are not obligated to entertain painful memories. Forgiving someone does not mean that we will never remember the incident associated with that person. Painful thoughts from the past will return.
How do we deal with these plaguing thoughts?
Don't rehearse it. If we want to get something out of our minds, we need to get it out of our mouths. We must stop talking about it. We must also refuse to rehearse it mentally. Instead we should focus on something positive. When we change our focus, we change our feelings.
Don't nurse it. We need to declare a war on self-pity. "Well, they really took advantage of me." We must stop this victim talk the moment these kind of thoughts enter our minds. One lady testified that she had developed a case of "ingrown eyeballs." Looking in and musing over injustices is unhealthy.
Don't curse it. The disciples were ready to call down fire on the inhospitable Samaritans. Once we have chosen to release a debt, it is no longer our business to administer payback. It's out of our hands—we must leave it with the Lord. We are free to leave our pasts and live in the present.
Do pray for the offenders. God released Job from his captivity when he prayed for his friends (his accusers) (see Job 42:10). Jesus prayed for the men who crucified Him, "Father, forgive them" (Luke 23:34). Stephen prayed for the men who were stoning him, "Lay not this sin to their charge" (Acts 7:60). Wow! Praying for our offenders is key to recovery. We can pray for them every time a hurtful memory resurfaces: "Lord, save them. Have mercy on that person. Lord, help his family." As we turn our remembrances into prayer for our offenders, we reprogram our spirits. In time our desires for vengeance will be displaced and replaced with compassion.
Forgiveness does not change the past, but it can change our futures. God wants us to rectify the rectifiable and live large all the days of our lives.
Action Points
Embrace the fact that the past is something we refer to but not a place to reside mentally.
Do you need to use these ten words for revival in your home? "I was wrong. I am sorry. Will you forgive me?" If so, do so.
Commit to the keys to staying free from bitterness: don't rehearse, don't nurse, don't curse, and do pray when painful memories enter your mind.
This chapter was written by Evangelist Harold Vaughan.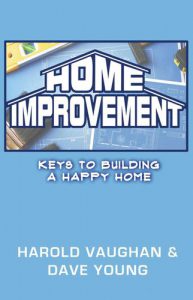 This chapter is taken from our book "Home Improvement- Keys To Building A Happy Home". CLICK HERE to learn more about this book and to place your order.