"If it be possible, as much as lieth in you, live peaceably with all men" (Rom. 12:18).
The perfect picture of a diverse family unit is the in-laws accepting their new daughter-in-law with open arms, considering her as much a part of the family as their own children. Makes you smile, doesn't it? Now, she has two mothers and two fathers who love her. And the mother-in-law has another wonderful addition to her brood that she calls "daughter." A daughter that accepts them all as her very own family. A tight-knit bond that will not break—that's the way it should be.
In this fallen world in which we live, it's not always like that. Most of us come from dysfunctional families! We carry baggage into our relationships. It is the plan of Satan to use that baggage to destroy your family! So, we must do all we can to ensure it is not because of us. We don't want to be the weak link.
You may have an extreme case of in-law-itis. Maybe the new daughter-in-law was nice at the beginning, and then after they were married, BAM! And now you don't see your son much at all and you're afraid when grandchildren come that you won't see them much either. Or, maybe your mother- and father-in-law want to make all the decisions in their son's life, including how your children should be raised, etc. Whatever your situation, know there is a God in Heaven who understands, sees, and wants to help you.
Helpful Suggestions:
Don't view them as a mistake. God puts people in our lives that will help mold us. They are the sandpaper to make you smooth!
Give them to God daily.
You should be dead to self. Learn to let go. Read Moses' life. God's got your back!
Get advice from your pastor. Be open to constructive criticism.
Ask God to help you love them unconditionally, just as He does for you!
Don't allow any negative thoughts to take up residence in your mind about them!
Realize Satan's intentions.
Treat them as you'd wish to be treated, regardless of how they may respond. Be consistent.
Try not to make your husband/son the middle man.
Have them over for dinner, extending hospitality.
If it's bad, sit down with your husband and prayerfully consider ground rules for them. You'll need direction from God and total support from each other. Then, sit down with your parents and respectfully discuss the situation. You can be humble without relinquishing your rights.
Make sure your heart is tender and right with God before saying or doing anything.
Do something unexpectedly nice for them once in a while, just to show them you love them.
Send them a note about how grateful you are to them for raising such a fine man you call "husband."
Send her a note thanking her for being such a wonderful wife to your son.
Go out shopping together.
Confrontation is not always the answer. Go to God for direction.
Remember, whatever you plan to do to help the relationship, the goal is to make the relationship stronger.
Don't shut the door on the relationship because they haven't responded to your efforts.
Always remember, this person is important to your husband/son! Show respect.
Don't gossip about them to anyone! Especially family! You can be a healer in the family or a divider. Gossip doesn't hurt them so much as it hurts your reputation.
Always forgive and let it go. Holding grudges only hurts you and makes you look older!
Learn to hug and mean it. A warm embrace can mean so much to a hardened heart.
Never assume that it's the other person's fault. It may be that you've made some mistakes too! Be willing to say, "I'm sorry" whenever needed.
What would the Lord like to see in a family? Unity, loyalty, love, and joy. The only way that can happen is through prayer and making Him the center of it. All you have to do is your part. Be sweet! Be a grown up! Be sincere! By loving your in-laws, it shows your son/husband the kind of love the Lord has. He will love you so much more for it!
Action Points:
Choose one, two, or three of the suggestions listed in this chapter and start applying them to your life today.
Consider what the Lord would like to see in your family. Pray and make Him the center of your life. He is faithful to make it a reality!
This chapter was writtne by Joanne Weigel. Joanne is the wife of Pastor Michael Weigel, Ocean County Baptist Church, Toms River, NJ.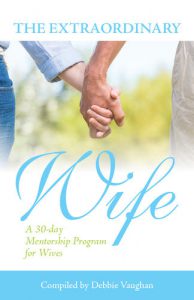 This chapter was taken from The Extraordinary Wife. CLICK HERE to learn more about the book.