"That they may teach the young women to . . . love their husbands" (Titus 2:4).
Building a loving, sweet relationship with your husband is a lot like creating beautiful music. The melody line is lovely in itself. But add the harmony, with all the crescendos and decrescendos, and suddenly, there is an amazing depth of beauty. Your love for your husband can create a deep and beautiful relationship.
Sometimes, in the midst of our busy lives, we can become wrapped up in our own to-do list and forget to be the wives our husbands need and desire. Sadly, we can think, "He's a man; he can take care of himself." Or, "He's a guy; guys don't care about that mushy stuff." Or even, "Men don't get their feelings hurt." Our husbands didn't marry us so that we could have a discordant relationship. They married us so that we could, as the old saying goes, "Make beautiful music together."
Our husbands need our kindness. It is a lie to believe that men are never bothered by a sharp word. Yes, our husbands are manly men, ready to provide for and protect their families. But they have a heart. Proverbs 31:11 says, "The heart of her husband doth safely trust in her." More than ever, in this culture of rudeness, our husbands need a safe place for their hearts. A place where they hear "please" and "thank you" regularly. A place where they can be a man and know that they will be treated respectfully and kindly.
Speaking of kindness, our husbands also need our encouragement. There is much in this world that can discourage and tear down our men. What a wonderful privilege it is that you can be the one, sometimes the only one, who can encourage him! Husbands can certainly be encouraged by our words. Compliment him. Build him up. Thank him. He can also be encouraged by your attitude. Smile at him! Let your eyes twinkle at him like they did when you were first married. Exhibit a contented, peaceful spirit.
Another way to show your husband love is to be his friend. It's a sad thing when couples are not best friends. You may think that you and your husband have little in common, but all friendships take effort. Try to plan dates that include things he likes to do. Watch a game with him and root for his favorite team. (Better yet, wear his team colors!) Learn to fish or hike. Work with him in the yard. You may be surprised at how much fun you will have!
We are uniquely and specifically designed as wives to meet the needs of our husbands. There is so much meaning in the word "helpmeet." As wives, we can help our husbands, love them, and even "spoil" them. Most wives are the chief cooks in their homes. When was the last time you made your man his favorite meal? Dessert? Snack? Just because . . . even before he asks. Is there a chore your husband does for you regularly that you could do so that he can relax a little more? Maybe you could run an errand for him, so he can come straight home after work. Try thinking of ways that you can help him, more than you currently do.
Of course, physical affection is a powerful way to show your husband that you love him. Show him that you are still "his girl" by snuggling up in church, holding hands, taking his arm while walking, and last, but certainly not least, kissing him soundly as often as you can! There is no one else in the world who can be affectionate like that with him; take advantage of it!
Recently, on a flight, I attempted to get my husband's attention. The lady beside me asked, "Do you want me to tell him to shut up?" I was mortified! I stammered, "N-n-n-o." How awful that she assumed I would be rude! What a privilege it is to be different in this culture, to love our husbands, to create beautiful, loving music together.
Action Points:
Make a list of ways you can show your husband love today by being kind and encouraging to him.
Then make a list of goals to help you show your love by pursuing friendship, by being his helpmeet, and by displaying physical affection.
This chapter was written by Bethlie Young, wife of Evangelist Dave Young.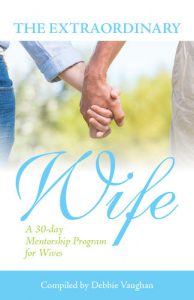 This chapter was taken from The Extraordinary Wife. CLICK HERE to learn more about the book.