"Let no man say when he is tempted, I am tempted of God: for God cannot be tempted with evil, neither tempteth he any man: But every man is tempted, when he is drawn away of his own lust, and enticed" (James 1:2-4).
We were born into a sin-cursed world. Our very natures were tainted with sin at the moment of conception. The reason we trusted Christ was to save us from our sins. Becoming a Christian does not end the battle with this malignant culprit called sin. It is an ever-present foe that must be slain every day of our lives. Note the Psalmist's prayer, "Order my steps in thy word: and let not any iniquity have dominion over me" (Psalm 119:133). This man longed to be established in God's Word because its truth is his sole means of deliverance from the power of sin.
If you have been on the Calvary Road for any length of time, then you are well acquainted with your dominant weaknesses. There never comes a time when you get an exemption from temptation. Victory is not the absence of conflict, but the ability to over-come it. It is imperative to have a proper understanding of temptation.
Temptation is the enticement to satisfy a God-given desire in a God-forbidden way. Humans were created with appetites, desires, and passions. God Himself gave man these legitimate and normal longings. But the Fall introduced the misuse and exaggeration of these innate desires. These lusts come from within and attempt to drag us into rebellion. Adam and Eve were entirely innocent, yet they were tempted to disobey God. Satan solicited them to sin, lying to Eve and appealing to her God-given hunger drive with the forbidden fruit. Her capitulation led to her downfall and Adam's, too. Since Adam's expulsion from the Garden, all his descendants are born with an inherited bent toward being bad. Some are prone to physical or fleshly sins (adultery, drunkenness, gluttony) while others lean toward the sins of the spirit (pride, anger, jealousy, irritability). All sin finds expression in one of two avenues: unrighteousness or self-righteousness.
Every temptation is a test that we either pass or fail. To resist temptation is victory; to yield to temptation is defeat. Scripture speaks plainly about temptation.
"Mortify therefore your members which are upon the earth; fornication, uncleanness, inordinate affection, evil concupiscence, and covetousness, which is idolatry… But now ye also put off all these; anger, wrath, malice, blasphemy, filthy communication out of your mouth. Lie not one to another, seeing that ye have put off the old man with his deeds; And have put on the new man, which is renewed in knowledge after the image of him that created him" (Colossians 3:5-10).
"Mortify" means to put to death. John Owen said, "You will either be killing sin or sin will be killing you." The "old man" and his deeds must be "put off," that is, laid aside. You are no longer free to indulge these sensual and self-centered desires. Christ's cross is the basis of victory because that's where our "old man" was dealt a deathblow. "Crucified" means "rendered inoperative." The power of sin was broken on Calvary. Christ identified with us in our humanity so that we could identify with him in His victory. "For he hath made him to be sin for us… that we might be made the righteousness of God in him" (2 Corinthians 5:21). Because of His work on the Cross we are "partakers of the divine nature" (2 Peter 1:4).
These positional truths are not merely theoretical; they are practical realities. Christian growth is taking place when our condition matches our position and we become in reality what we already are "in Christ." So, we must fight the good fight of faith. We must live in faith, not out of our feelings. The Cross bought us the victory, but we must battle against unbelief. The victory of Calvary must be enforced by faith. Apprehending this truth is step one. Appropriating the truth is where the battle lies! No wonder the Psalmist said, "Order my steps in thy word: and let not any iniquity have dominion over me."
Your Christian life will be a fight to the finish. Roy Hession wisely stated, "We are not working for victory, but from victory." As Scripture encourages we must "Fight the good fight of faith" (1 Timothy 6:12). The battle is staying "in faith" as opposed to caving in to unbelief. We have powerful weapons and these must be employed "by faith" (2 Corinthians 10:3-5). Paul exhorted Timothy, "Thou therefore endure hardness, as a good soldier of Jesus Christ" (2 Timothy 2:3).
To Think and Pray About…
Face up to it: temptation is a regular lot of life in this world.
Do your children see some evidence of your gaining victory over sin?
Pinpoint three areas in your life in which you need to focus more energy in battling sin.
This chapter was written by Evangelist Harold Vaughan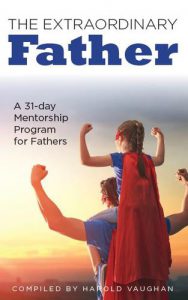 This chapter is taken from "The Extraordinary Father". CLICK HERE to order your copy today!