"And ye murmured in your tents, and said, Because the Lord hated us, he hath brought us forth out of the land of Egypt, to deliver us into the hand of the Amorites, to destroy us" (Deuteronomy 1:27).
The children of Israel complained against God when they murmured in their tents. "Their accusations against God were false and foolish. No doubt the children heard these attacks on God's character from their parents because they took place in their "tents"—the places they lived. The modern day equivalent would be "houses" or "homes." The Israelites murmured in their dwellings.
You cannot allow "murmuring" to take place under your roof. What is murmuring? Murmuring is complaining to someone who cannot do anything about it. It not only solves nothing, but it creates more problems. Repetitious murmuring incites anger and makes you even more upset. But it also contaminates those who hear it. Your family does not need an auditory diet of complaining and griping.
Korah, Dathan, and Abiram were leading men in Israel. They boldly revolted against Moses, God's appointed leader. All three, their families, and followers died as the earth opened her mouth and swallowed them alive (see Numbers 16). What an example of God's wrath against grumblers! Note this clear command: "Neither murmur ye, as some of them also murmured, and were destroyed of the destroyer" (1 Corinthians 10:10). Never down-talk your church or pastor in your home. There may be times when husbands and wives need to have a private conversation, but never in the hearing of children. God has established order in his church. "Obey them that have the rule over you, and submit yourselves: for they watch for your souls, as they that must give account, that they may do it with joy, and not with grief: for that is unprofitable for you" (Hebrews 13:17).
You must use your influence to build a nest without thorns. A criticism-free climate is an oasis in an unsettled world. Your family needs an environment of escape from the turmoil that surrounds them. The first thing to do is to inventory your own spirit. Be honest with yourself. Have you detected a peevish, self-pitying, griping, bellyaching intruder within your breast? If so, his name is SELF, and the only remedy is daily crucifixion. Self is just another name for "FLESH". Drop the "H" from flesh, and spell it backwards—S-E-L-F. It is this "self" which lies at the root of every unhappy home. There is something in the human heart which continually looks for something, or someone, to be angry at. This disposition robs us, and those around us, of the longed-for peace. A negative focus is a cesspool of poison which cannot be allowed in your home. We must get victory over this tendency to murmur and complain. SELF cannot be allowed to wreck your own tranquility, or the calmness in your home. I repeat, there is only one remedy for this sinister culprit—the CROSS.
Romans 6 reveals God's appointed way of deliverance. Read Romans 6 and note these three important steps…
KNOW—"Knowing this, that our old man is crucified with him, that the body of sin might be destroyed" (Romans 6:6).
The "old man" cannot be rehabilitated, rededicated, or improved. He was crucified with Christ. You must embrace this fact—"And they that are Christ's have crucified the flesh with the affections and lusts" (Galatians 5:24).
RECKON—"Likewise reckon ye also yourselves to be dead indeed unto sin, but alive unto God through Jesus Christ our Lord" (Romans 6:11).
The word "reckon" is an accounting term. You must consider your "old man—SELF" to be dead to sin, and your new self alive to God. This has nothing to do with feeling. It is a historical fact which must be appropriated by faith.
YIELD—"Neither yield ye your members as instruments of unrighteousness unto sin: but yield yourselves unto God" (Romans 6:13).
Yielding yourself to God is the means of gaining this resurrection power. Every solicitation to evil calls for an act of your will. Instead of yielding to sin, yield your body to the Holy Spirit.
The best way to promote peace in your home is to get yourself in step with the Spirit. A Spirit-filled man is both a peacemaker and a peace promoter. His very presence fosters goodwill. Peace is a fruit of the Holy Spirit. "But the fruit of the Spirit is peace" (Galatians 5:22). As you live under the Spirit's empowerment, you will contribute to a peaceful atmosphere in your home.
To Think and Pray About…
Are you under the Spirit's control this moment?
What steps do you need to take to promote peace in your home?
Talk with your family about these three principles: Know, Reckon, and Yield.
This chapter was written by Evangelist Harold Vaughan.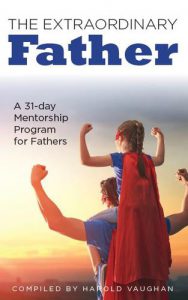 This chapter is taken from "The Extraordinary Father". CLICK HERE to order your copy today!