"Honour all men…" (1 Peter 2:17).
A family was driving home after the Sunday morning church service. The father noticed in the rearview mirror that his son was whimpering and crying behind him. He said, "Son, what's wrong?" The boy replied, "The preacher said every child should be raised in a Christian home… but I want to stay with you and Mom!" Ouch! Children have a unique ability to discern character.
There is a spirit of disrespect in our nation. It is not only the words, but the tone that communicates disrespect. Some men speak to their families in a way they would never communicate with strangers. Familiarity can create a climate of disrespect. The way you speak to your spouse and children influences how they relate to others. Disrespect is duplicated. The unintended consequence of disrespect is its influence.
You cannot allow your children to be disrespectful. Direction in a home is not determined by what you teach, but by what you tolerate. A pastor's wife, accompanied by their two children, came into the church office. The pastor introduced me to his children. Both of them rolled their eyes as if this was the greatest waste of time, as they grunted out their replies. Their countenances conveyed contempt both for their parents and me. I said to my wife, "There will be a payday someday for the way these parents are tolerating such a poor attitude and behavior." Sure enough they got into legal and moral trouble. You cannot afford to put up with disrespect. It's your home. You are in charge. You set the ground rules. Your child can be trained to be respectful.
G. Lee said, "Parental authority has not disappeared; it has merely changed hands. The children have taken it over." Instead of parents training the children, the children are training the parents to accommodate their disrespect. They should never be allowed to talk back to you with anger. Their whining and griping should be met with swift punitive consequences. Seeds of disrespect will lead to a bitter future harvest.
How do we teach respect? Here are some ways:
If you love your children you will take the time and make the effort to discipline them. Permitting disrespect evidences a lack of concern. Children properly interpret the permissive parent's failure to correct them as a lack of love. God disciplines all His children, and so should we.
When you repeat an instruction, you are training your children to disobey. Tell them once. If they don't follow through, there should be consequences. If they continue disobeying, the consequences need to be more severe. Either the parents or the children will win the control issue. And if you don't win the ruler-ship contest, both you and your children will lose in the long run. Your authority must be established.
Never allow your children to address adults by their first name. Older people must be treated respectfully. When addressing adults, teach your children to preface their remarks by "Mister, Mrs., or Miss." Success in life is partly determined by our response to authority. The Asian culture teaches a valuable lesson in honoring the elderly, especially parents and grandparents.
Honor decides destiny. Not only did God dedicate one of the Ten Commandments to honoring parents, He also included this principle in the New Testament. "Children, obey your parents in the Lord: for this is right. Honour thy father and mother; which is the first commandment with promise: that it may be well with thee, and thou mayest live long on the earth" (Ephesians 6:1-2). Long life and success accompany a respectful attitude. This is a commandment with a promise. Teach it to your sons and daughters.
Honor or dishonor creates an atmosphere. There is a code of conduct for entering every environment. Almighty God would not accept crippled animals for sacrifice—it was an insult. The way one approaches God reveals their inner attitude. The honor or dishonor one shows to others is indicative of their disposition. By training your children to respect you and their mother, you are programing them for success. Respect has to be taught. Position, achievements, and age must be recognized and respected.
To Think and Pray About…
Let this sink into your heart and your head: as a father you must exercise loving leadership in your home—leadership that commands the respect of your family.
Consider two or three areas in which you might need to discipline your children in a Christlike way.
Be thankful that you have a Father in heaven who is worthy of all love and respect; how might you become more like Him in the way you lead your family?
This chapter was written by Evangelist Harold Vaughan.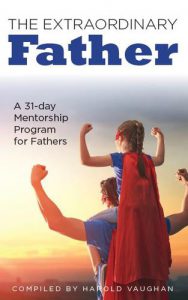 This chapter is taken from "The Extraordinary Father". CLICK HERE to order your copy today!