I bow my knees unto the Father of our Lord Jesus Christ, . . . that ye might be filled with all the fullness of God. Ephesians 3:14, 19
Paul prayed an amazing prayer for the Ephesian believers. He asked that they would be filled with all the fullness of God—overflowing with the fullness of God, or saturated with God.
Homes, like churches, project an atmosphere. That atmosphere is the result of the spirit of those individuals who reside there. When family members are filled (energized) with the presence of God, the home environment is saturated and sanctified by that presence. Animated saints carry the presence of God with them wherever they go. When the Holy Spirit is living in and through family members, the home is alive with God's fullness. The abiding presence of God cleanses the climate in the home.
Spiritual sensitivity enables one to recognize disorder quickly. Just as the early church walked in the "fear of the Lord" and the "comfort of the Holy Ghost" (Acts 9:31), those twin spirits can permeate our homes today. A super-saturated, holy atmosphere brings vitality and life to the home. It makes God real!
Our God is a supremely happy God: "In thy presence is fullness of joy" (Ps. 16:11). Wherever God is, there is joy. Note that it is not mere joy but "fullness of joy." Heaven is joyful because God is there. Seasons of reviving are joyful because God is present. The key to a happy home is the abiding presence of God. A happy home is one in which family members are filled with the "fullness of God."
How can we promote this sanctified atmosphere in our homes?
Prayer. Just as Paul prayed for the Ephesians, we can pray for ourselves and our families. We should ask God to fill each member with the "fullness of God." We must keep current accounts with our heavenly Father. We can become sensitive to God's promptings. We must learn to walk in the Spirit: "Walk in the Spirit, and ye shall not fulfil the lust of the flesh" (Gal. 5:16); "If we live in the Spirit, let us also walk in the Spirit" (Gal. 5:25). The Bible never instructs us to sit in the Spirit but rather to "walk" in the Spirit. Spirit-filled Christians are not stationary—they possess momentum. Spirit-filled people are on the move—walking with God. This implies a moment-by-moment dependent walk.
Purging. Purging is the process of eliminating worthless and useless clutter. "In a great house there are not only vessels of gold and of silver, but also of wood and of earth; and some to honour, and some to dishonor. If a man therefore purge himself from these, he shall be a vessel unto honour, sanctified, and meet for the master's use" (2 Tim. 2:20–21). The fullness of God is preceded by the purging, or emptying, of self in all its forms. A Spirit-filled life calls for some subtractions, then additions, before we will see multiplication. This replacement principle has a negative as well as a positive component: we must "put off" the old man before we "put on" the new man (Eph. 4:22–24).
Imagine a home in which the Spirit of God is un-grieved, unquenched, and un-resisted. Ephesians 3:17 speaks of Christ dwelling in our hearts by faith. Purging is the elimination of everything that grieves God so that Christ is able to settle down and feel at home in our hearts—and in our homes. Repentance is rejecting the type of thinking that landed us in a sinful state. Changing the mind paves the way for a change in behavior.
Practice. Many have been greatly helped by Brother Lawrence's little book The Practice of the Presence of God. Doctors practice medicine. Lawyers practice law. Christians practice Christ. The awareness of God's presence is the best thing we can experience on earth. Following the Spirit's lead is essential for a happy home.
We would do well to carefully consider Paul's prayer and its implications:
I bow my knees unto the Father of our Lord Jesus Christ, of whom the whole family in heaven and earth is named, that he would grant you, according to the riches of his glory, to be strengthened with might by his Spirit in the inner man; that Christ may dwell in your hearts by faith; that ye, being rooted and grounded in love, may be able to comprehend with all saints what is the breadth, and length, and depth, and height; and to know the love of Christ, which passeth knowledge, that ye might be filled with all the fulness of God. Now unto him that is able to do exceeding abundantly above all that we ask or think, according to the power that worketh in us, unto him be glory in the church by Christ Jesus. (Eph. 3:14–21)
Action Points
What needs to be purged from your home?
How can you adapt Paul's prayer for your entire family?
What adjustments can you make in order to better practice the presence of Christ?
This chapter was written by Harold Vaughan.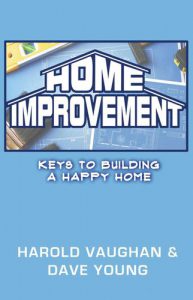 This chapter is taken from our book "Home Improvement- Keys To Building A Happy Home". Click on the link to learn more about this book.