"I have finished the work which thou gavest me to do" (John 17:4).
The alarm clock sounds and you are off and running. The "To Do List" for the day flashes through your mind. There are meals to prepare, lunches to pack, laundry piles to tackle, a house to clean, and errands to run. If you work outside the home, then getting to work is on that list, as well as getting the children to school and to their many activities. You're tired even before you get started. Does this sound familiar?
We live in a fast-paced society where we are pulled in many different directions. The day seems to vanish before we can get everything done. This can many times lead to despair. We are all busy, and each person's "busy" is different—but God wants us to "choose the good part, which shall not be taken away."
Being a godly wife in this fast-paced world requires focus and determination. You would think in such an instant, at-your fingertips society that our workloads would decrease and we would have more time for family, but that does not seem to be the case. Those days of yesteryear when families ate dinner together and then sat on the porch and watched the sun go down seem to be non-existent today.
We need to sit down with our husbands occasionally and go over our to-do lists. Ask him for his input on what is important and what is not. Many times, getting another person's perspective is beneficial in evaluating our priorities. There are many good things we can do, but that does not mean they are things we need to do.
Take time to pray and ask God about your schedule. Seek His guidance. "Now therefore thus saith the LORD of hosts; Consider your ways. Ye have sown much, and bring in little; ye eat, but ye have not enough; ye drink, but ye are not filled with drink; ye clothe you, but there is none warm; and he that earneth wages earneth wages to put it into a bag with holes. Thus saith the LORD of hosts; Consider your ways" (Hag. 1:5–7).
Many times our work is not producing what God desires. One thing you should always do each day is spend time with the Lord in prayer and in His Word. Our world of technology makes this very easy. We can listen to God's Word and pray as we drive to work or as we do mindless tasks, like cleaning. Don't get so busy that you neglect your walk with God. We can accomplish so much more when God is leading the way.
We also need to make sure that we make time for our husbands. Too often we get so busy that he gets put way down on the list of priorities. It takes effort on your part to keep this from happening. Ask him about his day. Encourage him with good thoughts. Don't hit him with a rundown of problems the minute he walks in the door. Make sure that he has some of your undivided attention each day. Plan special times just with him. Let him know that he is special.
At the end of the day, it all comes down to God, our family, and our friends. Don't let busyness rob you of the joys of spending time with those you love. Make them a priority. Learn to say "NO" to things that aren't on God's schedule for you. You can't do everything, but you can do what is important. Life is short, so make it count for what truly matters.
Being a wife is a high calling, a job not to be taken lightly. When we stand before God, we should be able to say, "I've finished the work that you gave me to do."
Action Points:
Are you choosing the better part each and every day? If not, take time right now to pray and ask God about your schedule. Say "No" to the things that aren't on God's schedule.
Think of several ways that you can encourage your husband today, and plan a special time just for the two of you.
This chapter was written by Debbie Vaughan.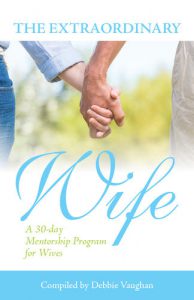 This chapter is taken from "The Extraordinary Wife". CLICK HERE to order a copy of the book.