Where to Conduct the Home Improvement Conference
The Home Improvement Conference is designed for the participation of the entire church during all the evening and Sunday morning services. Most likely the auditorium will be the best setting for these times. Depending on the number of people in Saturday morning sessions (during the Home Improvement Conference Weekend), it may prove helpful to set up a classroom style setting in the fellowship hall or other appropriate setting.
Personnel Needed
Nursery workers for all sessions
Overseer for teens and children in Husband/Wife Breakout Sessions
Financial Policy
We ask the sponsoring church to provide a pro-rated travel expense ($495 for Home Improvement Family Conference within a 300 mile radius of Roanoke, VA) in advance. We make no demands, but ask that love offerings be received for our ministry utilizing our envelopes. These envelopes let the people understand what they are giving to. Any checks should be written to the Local Church. One check should be written at the end of the Home Improvement Conference to Christ Life Ministries. These love offerings go entirely to Christ Life Ministries.
Biographical Sketch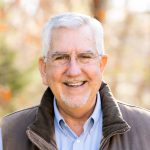 HAROLD VAUGHAN: Harold is an evangelist who is involved in full-time revival ministry. His preaching ministry has taken him to forty-eight States and numerous foreign countries. Revival in individual lives and the corporate life of the church is the dominant burden of his heart.
Harold is the founder of Christ Life Ministries. C.L.M. sponsors Prayer Advances for Men, Ladies, Students, and Couples. The ministry also publishes books and materials.
Essential Items Needed
Two Long Tables. Available for books, audio resources and free materials (in foyer).
Apart from what is on the platform, have a standup microphone available in front of the platform on audience level for every service.
LCD (PowerPoint®) Projector. Several of Harold's messages will utilize PowerPoint®.
Free Resources - available to be used
Handouts - available for purchase on our website
Accommodations
When distance permits, my wife and I come together and stay in our travel trailer. All that is needed is a water hookup and electricity. Our trailer requires a 30 or 50 amp R.V. hookup (see photo). The plug needs to be within 40 feet of the rear of the trailer. The electric breaker, appropriate wire, and R.V. plug can be obtained at an electrical store and should be installed by an electrician who understands R.V. electrical needs.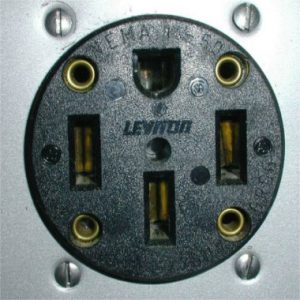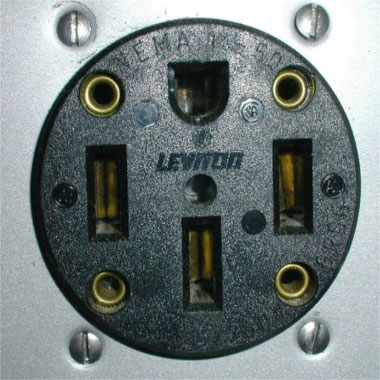 50 AMP Receptacle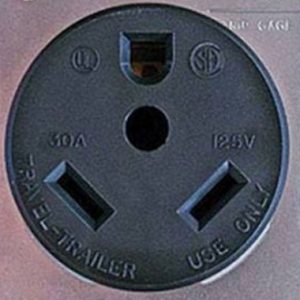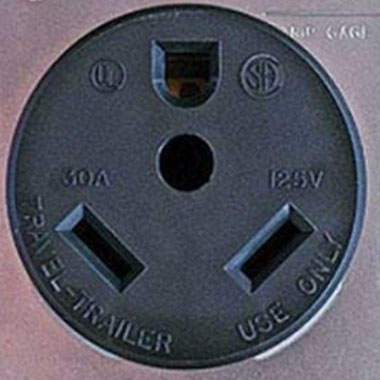 30 AMP Receptacle
When I fly in, I need to stay in a "newer" hotel. Since I have chronic sinusitis, the room must be clean and free of dust and smoke. I have found that Marriott® brand hotels normally have the best air quality for my condition. Please, let me know in advance if hotel accommodations are not possible.
Meals
When bringing our travel trailer, we will take all our meals there. We would love to have Sunday lunch and perhaps some select meals with the pastor. Some churches elect to give funds for groceries during the Summit.
Promote
In an age of social media, instant messaging and 4GLTE mobile internet, letting people know about upcoming events has never been easier. Here are a few ideas as you advertise the meetings in your community.
Personal invitation cards
Facebook® ads and posts
Twitter® announcements
Instagram
Blog postings
Bulletin inserts
PowerPoint® ads during services
Local web bulletin boards
Email marketing
Posters
Church web site announcements
Community mailings
Color banners in church
Home Improvement Conference Booklet
Please print out one copy of the Conference Booklet for each participant. You will need to print the document two-sided, flip on the short edge and then staple the pages together in booklet form.
CLICK HERE to download the booklet. Print settings: Color, Print On Both Sides / Flip On Short Side. The pages should be stapled together in the middle (saddle stitch) and folded to form a booklet.
Logos
Photos
Recommended Resources
Home Improvement - Keys to Building a Happy Home (CLICK HERE)
The Extraordinary Husband (CLICK HERE)
The Extraordinary Wife (CLICK HERE)
The Extraordinary Father (CLICK HERE)
The Extraordinary Mother (CLICK HERE)
The Extraordinary Woman (CLICK HERE)
The Power Of Forgiveness: How to Get Along With Everybody All The Time! (CLICK HERE)
The Power Of Forgiveness Card (CLICK HERE)