"Every revival can be traced to a kneeling figure." —D. L. Moody
"From the day of Pentecost, there has been not one great spiritual awakening in any land which has not begun in a union of prayer, though only among two or three. And no such outward, upward movement has continued after such prayer meetings have declined. It is in exact proportion to the maintenance of such joint and believing supplication and intercession that the Word of the Lord in any land or locality has had free course and been glorified." —A. T. Pierson
"Prayer is the key to heaven; the Spirit helps faith to turn this key." —Thomas Watson
Off the west coast of Scotland is a small group of islands called the Hebrides. A revival swept through these islands between 1949 and 1952. Evangelist Duncan Campbell was instrumental in this movement. He came to the Isle of Lewis for a two-week evangelistic campaign and stayed for over two years. But behind this outpouring were those engaged in the hidden ministry of intercessory prayer.
Two elderly sisters, Peggy and Christine Smith, lived in a small cottage in the village of Barvas. Their ages were 84 and 82. Peggy was blind, and her sister was bent double with arthritis. Due to their feebleness, they were unable to attend public worship, so their humble cottage became a sanctuary where they met with God. They became gripped with the promise, "I will pour water on him that is thirsty and floods upon the dry ground" (Is. 44:3). Day and night they pled this promise in prayer. One night Peggy was struck with the conviction that revival was coming, and the church of her fathers would be crowded again with young people. She sent for the minister, James Murray Mackay, and told him what God had shown her. Then she asked him to call the elders and deacons together for special times of waiting upon God.
Are My Hands Clean?
In the same district there was a group of men who gathered regularly in a barn to pray. These men had experienced a foretaste of the coming blessing. One evening, as they waited upon God, a young deacon rose and read from the Psalm 24, "Who shall ascend into the hill of the LORD? or who shall stand in his holy place? He that hath clean hands, and a pure heart; who hath not lifted up his soul unto vanity, nor sworn deceitfully. He shall receive the blessing from the LORD" (Ps. 24:3-4). After reading he turned to the others and said, "Brethren, it seems to me just so much humbug to be waiting and praying as we are, if we ourselves are not rightly related to God." Lifting his hand to heaven he cried: "O God, are my hands clean? Is my heart pure?" He got no further and fell prostrate on the floor. An unbelievable awareness of God filled the barn, and a stream of supernatural power descended upon them. These men moved into a new plane of God-realization that enabled them to implicitly believe God for revival.
The Spirit of Prayer
From the outset incredible things took place. As in all revivals, the happenings were humanly unexplainable and totally unpredictable. The fire of God moved from one district to another. Among those converted there was a 15-year-old boy named Donald who became a "frontline" prayer warrior. Mr. Campbell called at his home one day only to find him kneeling in the barn with an open Bible before him. When interrupted he quietly said, "Excuse me a little, Mr. Campbell, I'm having an audience with the King." A number of the most vivid outpourings came when Donald was asked to pray. At a police station in Barvas, he stood one night clasping his hands together, and uttered one word— "Father." Everyone was melted to tears as the Presence of God invaded the building.
One of the most outstanding examples of the anointing God placed on Donald happened on a small island named Bernera. Campbell was assisting in a communion service, but the atmosphere was heavy and the preaching very difficult. He sent to Barvas for some of the praying men to come and assist in prayer. They prayed but the oppression persisted. Halfway through his address Duncan Campbell stopped preaching. About that time, he noticed Donald was visibly moved and under a deep burden for souls. "That boy is in touch with God and living nearer to the Savior than I am," thought Campbell. He leaned over the pulpit and said, "Donald, will you lead us in prayer?" The boy rose to his feet and in his prayer, he referenced Revelation 4, which he had read that morning, "O God, I seem to be gazing through an open door. I see the Lamb in the midst of the Throne, with the keys of death and hell at His girdle." He began to sob and lifting his eyes heavenward cried, "O God there is power there, LET IT LOOSE!" The Spirit of God swept into the building with the force of a hurricane. The floodgates of heaven were opened. Many in the congregation were prostrated over the seats weeping and sighing. God had come! Scenes like this were common in those days.
A Covenant-keeping God
Opposition to the revival was being raised in several places. The persecution of revival and those involved can be intense. As the islanders put it, "An evening was given to waiting upon God in the home of an elder." Around midnight Duncan Campbell turned to the local blacksmith: "John, I feel the time has come for you to pray." With cap in hand John rose to pray. In the middle of his prayer, he paused and raised his right hand to heaven and said, "O God, You made a promise to pour water upon him that is thirsty and floods upon the dry ground, and Lord, it's not happening." He paused and then continued, "Lord, I don't know how the others here stand in your presence. I don't know how the ministers stand, but Lord, if I know anything about my own heart I stand before Thee as an empty vessel thirsting for Thee and a manifestation of Thy power." Once again, he halted and after a moment of intense silence he cried, "O God, your honor is at stake, and I now challenge you to fulfill your covenant engagement and do what you promised to do." Many present testified that at the moment he finished praying the house shook. Dishes in the cupboard rattled as wave after wave of Divine power swept through the building. [Please understand that these were sober Scotsmen who were not at all given to emotional excess.] A minister turned and said, "Mr. Campbell, an earth tremor!" But Duncan Campbell's mind was in Acts 4— "When they had prayed the place was shaken where they were assembled together; and they were all filled with the Holy Ghost."
Jonathan Edwards wrote a book with the following title; "A Humble Attempt to Promote Explicit Agreement and Visible Union of All God's People in Extraordinary Prayer for a Revival of Religion and the Advancement of Christ's Kingdom on Earth." Note the key phrases: "Explicit Agreement," "Visible Union," and "Extraordinary Prayer." Explicit Agreement speaks of the binding unity of those who are praying. Visible Union marks the assembling together of the intercessors. And Extraordinary Prayer refers to the kind of prayer which is not customary. It is the kind of praying that is above and beyond the norm.
There has never been a revival apart from prayer. Every revival has begun and been sustained by prayer. The time has come to stop "saying our prayers" and start "praying our prayers." Effective prayer is heartfelt, fervent, and initiated by the Holy Spirit. Your prayer must move you before it will move God.
O for the Spirit of grace and supplication! Let us band together with other hungry-hearted saints in "Explicit Agreement," "Visible Union," and "Extraordinary Prayer."
Questions to Ponder
According to the chapter, where did revival sweep through between 1949 and 1952?
Who came to the Isle of Lewis for a two-week evangelistic campaign and stayed for over two years?
The promise of what verse gripped Peggy and Christine Smith?
True or False? In all revivals, some events are humanly unexplainable and totally unpredictable.
What happened when Donald, a fifteen-year-old prayer warrior, clasped his hands together at a police station in Barvas and said, "Father"?
According to the chapter, who thought, "That boy is in touch with God and living nearer to the Savior than I am"?
Once when divine power shook a building as if in an earthquake, Duncan Campbell's mind was somewhere else. Where?
What book did Jonathan Edwards write that deals with revival?
In that book, what do the words "Explicit Agreement" describe?
In that book, what do the words "Visible Union" mark?
This chapter is from "Revival In Our Time" by Harold Vaughan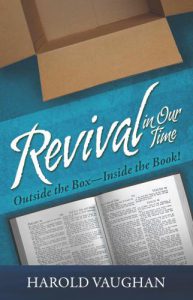 CLICK HERE for more information on the book.