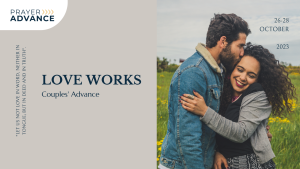 Featured Speaker: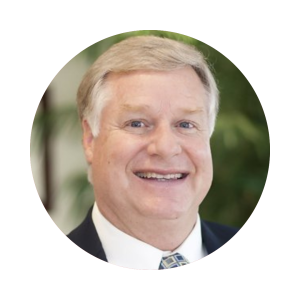 Jim Schettler
Moderators: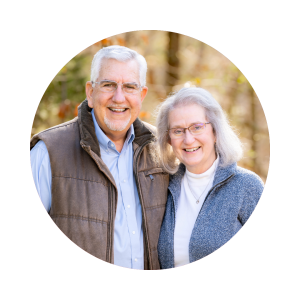 Harold & Debbie Vaughan
Worship Leader: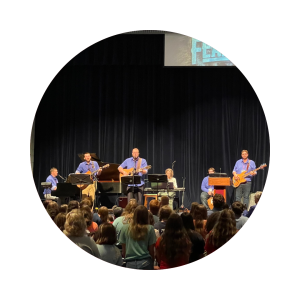 Dan Vaughn & PA Band
When is the Couples' Advance?
Where is the Couples' Advance?
Blue Ridge Mountains | Roanoke, VA
Venue | Villa Heights Baptist Church
4080 Challenger Ave NE, Roanoke, VA 24012
What is the Couples' Advance?
Every Advance features heart-directed preaching, heart-felt congregational worship, and heart-to-heart fellowship. We have no axes to grind and no agendas to promote. This specific event is designed for married couples to take time away with each other to rest, seek renewal in their relationship with the Lord, and put in intentional work on their marriage relationship no matter the stage or condition.
This Year's Theme:
Love is not just words, it is action. True love begins with a decision that produces behaviors which results in positive emotions. Love is more than a phrase, it involves practical steps. Too often we do not feel like "loving" our spouses, so the actions and expressions fade. But we made that sacred commitment to marry, and that means treating one another properly is more important than feelings.
LOVE WORKS! It goes above and beyond the call of duty to sacrificially love our spouses. And this requires action. 1 John 3:18 says, "My little children, let us not love in word, neither in tongue; but in deed and in truth." We must put in the work to love our spouses well. Come join us at the Couples' Advance... and put in the work! Learn practical helps for your relationship, but also take the time away to invest in your marriage union.
Whether young, old, or in-between there is something for you at this Advance.
Lodging and Meals
You are responsible for your own accommodations and meals. There is a Virginia Tech home football game this weekend. We recommend you secure lodging sooner rather than later.
Lodging Suggestions:
Hotels With Prayer Advance Group Rates (must register under our group for rate):

Comfort Inn & Suites Troutville - $109 nightly rate (Closest)
Best Western Troutville - $109 nightly rate (Next Closest)
Mainstay Suites @ Valley View - $109 nightly rate
Hyatt Place @ Valley View - $109 nightly rate

Many mountain and secluded airbnb's
B&B: "Shirley's Bed & Breakfast"
Suggestions for Meals:
Close-by: "Sal's Italian Eatery", "El Rodeo", "Famous A's", "Wing Boss", "Top Dawgs", "Cracker Barrel", "Cafe Asia", "Pokie Joes BBQ", Dogwood Restaurant
Fine Dining: Award winning "Alexander's" in Roanoke
Experience: "Kabuki Japanese Restaurant" & "Swinging Bridge Restaurant"
Local & Fresh: "Hollywood's Restaurant & Bakery", "Local Roots", & "Bloom"
Chains w/ Fantastic Local Locations: "Longhorn", Carrabba's, & "Mission BBQ"
Deserts: "Blue Cow Ice Cream", "Bubblecake", & "Rookie's"
What's There To Do In The Area?
Visit the iconic Roanoke Star and get a beautiful view of the Blue Ridge mountains, without having to hike at all
Check out beautiful Smith Mountain Lake and all it's activities
Like mountain biking? Roanoke is the mountain biking capital of the east coast
Hike Mcafee's Knob (ranked as the most photographed spot on the Appalachian trail)
Ride the Blue Ridge Parkway and view beautiful fall leaves
Visit the historic and gorgeous Peaks of Otter
The area features many Antique shops like Black Dog Salvage and others that offer endless antiquing
Shop in quaint downtown Salem and experience all the sights
Like coffee? Visit delicious and cute coffee shops like top-rated RND Coffee, Cello Coffee Cafe (Turkish coffee), and many others
Visit the Roanoke Explore Park and go on a zip lining tour or hike the beautiful trails
Like Disc Golf? Roanoke features one of the state's top 5 courses @ Mayflower Hills Park
Enjoy fishing as a couple? The area features no end of opportunities for trout fishing in streams, bass fishing at Smith Mountain Lake, muskogee fishing in surrounding rivers, and a ton more
Like history? You can take a short drive to visit the birthplace of Booker T. Washington, the D-Day memorial, or Thomas Jefferson's Poplar Forest Estate
Mix it up with history and nature, and visit the Natural Bridge (a limestone bridge created by water running through it and carving out the rock) then go to the Virginia Safari Park nearby and take one of the most up-close and personal animal tours all from the comfort of your car
And so much more...
Additional Resources & Important Links
CLICK HERE to Download the Registration Form (PDF copy)
CLICK HERE to Download the Couples Advance Postcard (PDF copy)
Tentative Schedule
Session times are approximate. See your Advance program (given at check-in) for actual times.
Thursday – 6 - 6:30pm – Check-in
Thursday – 6:30pm – Optional Session 1
Thursday – 8:15pm – Optional Session 2
Friday – 12:00pm – 1:00pm – Check-in
Friday – 1:00pm – Session 1
Friday – 3:45pm – Session 2
Friday – 4:30 – 6:45pm – Free for Dinner
Friday – 6:45pm – Session 3
Friday – 8:15pm – Session 4
Saturday – 9:00am – Session 5
Saturday – 10:15am – Session 6
2022 Couples' Advance Audio
Click on the title to listen to the audio message.
Contact Us
Christ Life Ministries, Inc.
PO Box 399 Vinton, VA 24179
Phone: 540-890-6100

Testimonials
"The Advance allowed us to refocus, reacquaint, and recharge our marriage and appreciation for one another. Learning God's plan for a happy and fruitful marriage in a place so full of the Holy Spirit was just what we needed and we are so thankful to have attended."
"Thank you so much for the couples advance! It was our first one and it was fantastic; my husband and I really enjoyed it."
"We enjoyed our first Couples Advance. We enjoyed the music, speakers, and sweet spirit of everyone we met. Thank you for both the time and effort you both put into planning this event."
"Praise The Lord! God is really working on our marriage to make it more heavenly and we would like to share that message."