Dear Pastor,
Your interest in developing godly men is to be commended. The MAN UP Weekend is designed to inspire, instruct, inspect, and equip men to excel in their God-given roles. Prayer, planning, and preparation are absolutely essential for an effective event. The following material is provided to assist you in your preparation for the Man Up Weekend.
Messages
Every message will be focused around themes that call men to Biblical Masculinity. Sample message titles include: The Masculine Mandate; Wimps, Whiners, and Warriors; A Man and His Family; How A Crucified Man Forgives; Reclaiming Biblical Manhood; Running To Win; Prophet, Priest, and Patriarch; ect. Books and materials will be available for purchase during the conference.
Media
Our media pack includes graphics and logos that you can customize and use for Power Points, printable posters and postcards, flyers, etc. to personalize your promotional materials for your event. One resource for professional printing of the postcards is: GotPrint.com. GotPrint is EXTREMELY affordable and very professional!
Social media is also an excellent way to communicate to this generation via:
Facebook
Twitter
Instagram
Promotion
You should lay out a strategy to promote this event several months in advance. Postcard mailings to men within your church and other local churches should be done at least 90 days prior to the event. Subsequent mailings would be helpful.
Personal letters to pastors along with one of the postcards as well as personal phone calls will help generate interest.
Plan a Facebook/Twitter announcement and post it numerous times for the maximum impact.
Power Point presentations during church services along with a LIVELY testimony/quip are also effective.
Posters should be placed around the campus; especially in the Men's Restroom.
Make a big deal out of the Friday night rally for area churches and do everything in your power to arouse enthusiasm among your men for the Saturday sessions.
Music
Music is a very important part for an effective Men's Conference. Men respond to energetic, upbeat, and marching-style songs. Those of you who have attended a Men's Prayer Advance appreciate the explosive worship atmosphere at these events.
I encourage you to consider finding a EXCELLENT piano player and/or group of musicians who can play by ear and transition from song to song without being bound to notes. Worship is led, it doesn't just happen. The atmosphere generated in the song service has a SIGNIFICANT impact on the preaching service. Adequate effort and expense need to be invested to obtain the maximum impact.
Financial Policy
We ask the sponsoring church to provide a pro-rated travel expense, when driving ($495 for MAN UP Weekends within a 200 mile radius of Roanoke, VA), in advance. For longer journeys or when flying, please contact our office. We make no demands, but ask churches to remember we have an office staff, an office building, as well as ministry expenses in addition to personal needs.
We can provide you with Offering Envelopes that explain the needs. These envelopes let the people understand what they are giving to. The offering in its entirety goes to CHRIST LIFE MINISTRIES. Any checks should be written to the Local Church. One check should be written at the end of the MAN UP Weekend to Christ Life Ministries.
Accommodations
When distance permits, my wife and I come together and stay in our travel trailer. All that is needed is a water hookup and electricity. Our trailer requires a 30 or 50 amp R.V. hookup (see photo). The plug needs to be within 40 feet of the rear of the trailer. The electric breaker, appropriate wire, and R.V. plug can be obtained at an electrical store and should be installed by an electrician who understands R.V. electrical needs.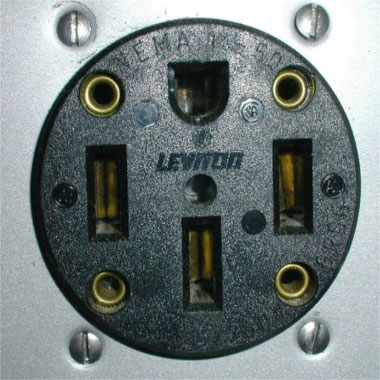 50 AMP Receptacle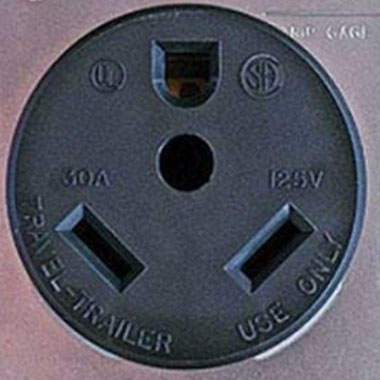 30 AMP Receptacle
When I fly in, I need to stay in a "newer" hotel. Since I have chronic sinusitis, the room must be clean and free of dust and smoke. I have found that Marriott® brand hotels normally have the best air quality for my condition. Please, let me know in advance if hotel accommodations are not possible.
Essential Items
Two 8-10 ft. tables for books and displays
Microphone and stand on floor for potential testimonies
Power Point Capability
Essential Personnel
Capable sound technician available at least 30 minutes before the service
Warm and friendly greeters to welcome every man as they enter the building
Food service volunteers to prep and serve for donut/coffee breaks, and whatever other food you elect to provide
Note to the Pastor
The investment you make in the MAN UP Weekend will help determine the results. You are encouraged to "pull out all the stops" as you pray, plan, prepare, and promote this conference. Feel free to contact me directly with any concerns or questions you might have.
Below, you will find a kit that includes graphics and logos that you can customize and use for Power Points, printable posters and postcards, flyers, etc. to personalize your promotional materials for your event. If you have any issues, or desire assistance, feel free to contact us at any time.
Biographical Sketch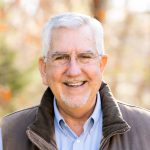 HAROLD VAUGHAN: Harold is an evangelist who is involved in full-time revival ministry. His preaching ministry has taken him to forty-eight States and numerous foreign countries. Revival in individual lives and the corporate life of the church is the dominant burden of his heart.
Harold is the founder of Christ Life Ministries. C.L.M. sponsors Prayer Advances for Men, Ladies, Students, and Couples. The ministry also publishes books and materials.