Dear Senior Pastor,
Dear Pastor,
Thank you for your interest in the Prayer Summit / Prayer Summit Weekend. God's central desire and definition for the local church is that it be known as a "house of prayer." Our goal is to move individuals and churches toward God's ideal through plain preaching, teaching and times of prayer implementation.
This Prayer Summit section should answer any questions you may have about this event. A proposed schedule is included. Should circumstances dictate, we may be able to alter the schedule to accommodate your particular situation.
During the sessions, my wife will conduct a Kid's Krusade for children ages 4-10. Depending on the number of children, she will need one or more helpers.
Debbie and I travel together in our travel trailer. All we will need is a suitable place to park the fifth wheel with a 30 or 50 amp electric hook-up and water connection.
Regarding financial arrangements, we ask the sponsoring church to provide a pro-rated travel expense in advance and receive a love offering in all services for Christ Life Ministries.
Please feel free to call with any questions. I do look forward to working with you in this worthy endeavor.
Every blessing!
Your Servant for Revival,


Harold Vaughan
Prayer Summit Formats
Christ Life Ministries has two primary format options available for the Prayer Summit.
Option 1: the Prayer Summit runs from Sunday to Wednesday.
Option 2: the Prayer Summit Weekend runs Friday evening through Sunday evening.
Option 1 (Prayer Summit) Sample Schedule
Sunday
Morning Service
Sweet Hour of Prayer (1 hour prior to the evening service)
Evening Service (Message/Testimonies/Prayer Time)
Monday-Wednesday
7:00 pm - Church-wide Service/Message
TBD - Implementation Prayer Time
Option 2 (Prayer Summit Weekend) Sample Schedule
Friday
7:00 pm - Church-wide Service/Message
TBD - Implementation Prayer Time
Saturday
8:30-9:00 am - Coffee/Donuts
9:00-9:45 - Workshop
10:00 - Directed Individual Prayer Time
11:00 - Testimonies
11:30 - Extra Workshop (Optional)
Sunday
Morning Service
Evening Service (Message/Testimonies/Prayer Time)
Where to Conduct the Prayer Summit
The Prayer Summit is design for the participation of the entire church during all the evening and Sunday morning services. Most likely the auditorium will be the best setting for these times. Depending on the number of people in Saturday morning sessions (during the Prayer Summit Weekend), it may prove helpful to set up a classroom style setting in the fellowship hall or other appropriate setting.
Items Needed
PowerPoint
Snacks for Saturday morning children's sessions (Prayer Summit Weekend only)
Two Large tables for books and materials
Microphone at floor level for testimonies
Personnel Needed
Nursery workers for all sessions
Helpers in children's meetings depending on number of children
Recommended Order of Services
Since this is a Prayer Summit it might be helpful to abbreviate any evening services. The suggested preliminaries could be limited to twenty minutes or less.
Rousing opening song or Choir Special
Welcome and prayer
Congregational songs
Offering for Christ Life Ministries
Dismiss children
Message
Implementation
Financial Policy
We ask the sponsoring church to provide a pro-rated travel expense ($495 for Prayer Summits within a 300 mile radius of Roanoke, VA) in advance. We make no demands, but ask that love offerings be received for our ministry utilizing our envelopes. These envelopes let the people understand what they are giving to. Any checks should be written to the Local Church. One check should be written at the end of the Prayer Summit to Christ Life Ministries. These love offerings go entirely to Christ Life Ministries. Please let me know if this procedure is acceptable.
How to Receive a Love Offering by Bill Rice
Approach the offering as you would a revival service.
Think of it as preaching a sermon and extending an invitation. Giving is serious business, calling for our undivided attention. An offering for a special cause should be preceded by a serious talk that calls for a deliberated decision.
With the help of the Lord, impress upon the people the importance of the need before them.
Be specific and clear about what the need actually is. Businessmen and thinking people appreciate this. Explain what the need is and why the offering is being taken. Be specific and straightforward concerning the amount that is needed and how the offering will be used.
Then speak directly to the responsibility each one has to participate in meeting this need.
Perhaps provide special offering envelopes, and have them distributed to everybody. Impress the congregation that everyone present has an obligation to ask the Lord what he should do to help meet the need. Gifts of all sizes will be important in supplying the whole need. God has a will for each one concerning this matter, and will give wisdom to each person concerning his part. We should all ask the Lord for this wisdom and direction (James 1:5).
Suggest that everyone pray for God's direct leading in how much each should give.
Surely if one each gives what the Lord directs him to give, the right amount will come in and the need will be met, to the glory of God!
Give the congregation an opportunity to pray before preparing their offerings.
This time of prayer is before the plates are passed. Perhaps the congregation can be encouraged to pray over their offering envelopes while music is being played. Perhaps the preacher can lead in a prayer briefly at the beginning of this preparation time, asking the Lord to lead.
Give them time to prepare their offerings.
Have the music continue as the people prepare to give the offering God has directed them to give. Checks can be written, cash can be taken out and envelopes can be filled at this time.
Have the ushers collect the offering.
The usual prayer over the offering, asking God to bless it and meet the need, should be offered just before the ushers begin the collection. The offertory will be played while the offerings are collected.
Accomodations
When distance permits, my wife and I come together and stay in our travel trailer. All that is needed is a water hookup and electricity. Our trailer requires a 30 or 50 amp R.V. hookup. The plug needs to be within 40 feet of the rear of the trailer. The electric breaker, appropriate wire, and R.V. plug can be obtained at an electrical store and should be installed by an electrician who understands R.V. electrical needs.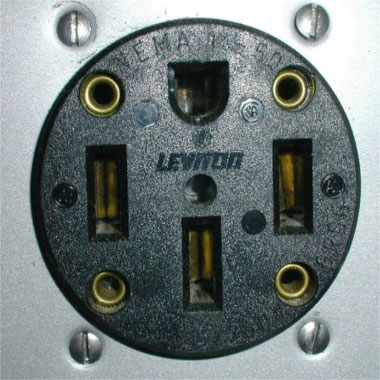 50 AMP Receptacle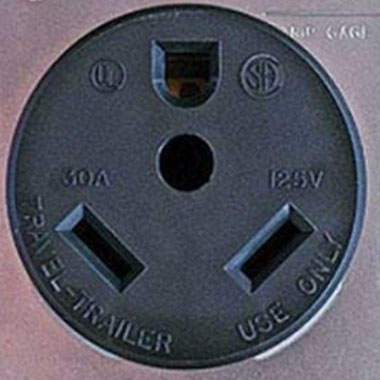 30 AMP Receptacle
When I fly in, I need to stay in a "newer" hotel. Since I have chronic sinusitis, the room must be clean and free of dust and smoke. I have found that Marriott® brand hotels normally have the best air quality for my condition. Please, let me know in advance if hotel accommodations are not possible.
Biographical Sketch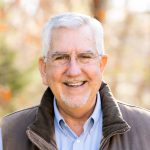 HAROLD VAUGHAN: Harold is an evangelist who is involved in full-time revival ministry. His preaching ministry has taken him to forty-eight States and numerous foreign countries. Revival in individual lives and the corporate life of the church is the dominant burden of his heart.
Harold is the founder of Christ Life Ministries. C.L.M. sponsors Prayer Advances for Men, Ladies, Students, and Couples. The ministry also publishes books and materials.
Passionate Pulpit Announcements
Utilize PowerPoint® slides.
Share the need for prayer and revival.
Impress upon them how this will benefit them.
Emphasize that the Summit is for the entire church. Consider having the choir open the services with a lively song.
Preach on the Need of Personally Drawing Close to God
Make the Summit the climax to a month-long emphasis on the subject of prayer.
The Prayer Summit is designed to help those who struggle in their prayer lives, not just those who are consistent.
Consider distributing a book on prayer that has ministered to your own heart. We have suggestions for books if you need ideas.
Pointed Promotions
Facebook® announcements, events, posts and ads
Utilize other social media platforms such as Twitter®, YouTube®, etc.
PowerPoint® Announcements
Personal invitations cards
Bulletin inserts and announcements
Have a special insert from the Pastor about the Summit
Encourage people to read through the Model Prayer every day during the week leading up to the Summit
Posters
Email and Snail mail letters to all church families
Invite area churches to participate
Personal Testimonies
Have people from the congregation who have strong prayer lives share specific answers to prayer and the change God has brought to their lives.
Plead for Total Church Involvement
Prayer Summit Booklet
Prayer Summit Booklet (PDF) - For proper printing, set your printer to two-sided printing, flip on short edge.